Hainey trial: Murder accused denies being 'monster mum'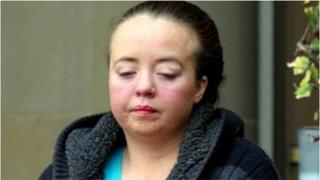 A woman accused of murdering her 23-month-old son has told a trial she was not a "monster mother".
Kimberley Hainey, 37, denies killing her toddler son, Declan, concealing his body and pretending that he was still alive to avoid a police investigation
Giving evidence for a second day at the High Court in Glasgow she said: "I was branded a monster mother.
"It's not true. He was not murdered. He was not given drugs, I never did anything to harm my son."
She added: "He was the most precious thing in my life."
Body mummified
Declan was last seen in public, aged about 15 months, around July or August 2009.
His decomposed and mummified body was discovered in his cot at his home in Bruce Road, Paisley, on 30 March last year.
Experts estimate he had been dead for months.
Giving evidence, Ms Hainey told her defence QC Edward Targowski that she woke up one morning in the summer of 2009 and found Declan dead.
She sobbed as she added: "I don't know how he died. I put Declan to bed. I had a cold. Declan wasn't in the bed beside me. I put him in his carry-cot in the living room and went to bed.
"I got up the next morning and I remember thinking it strange he hadn't got up for his bottle.
"When I looked in the carry cot Declan was just lying there."
She told the court he was "absolutely fine" the night before when he was put down to sleep.
Mr Targowski asked Ms Hainey: "When did this happen?" and she replied: "It was summer because the kids were off school. I remember children playing in the garden."
Attempted resuscitation
She was then asked: "What did you do when you found him dead?" and Ms Hainey replied: "I picked him up. I remember touching his babygro, partly taking it off him as if I was changing him. He just couldn't be gone."
Ms Hainey told the jurors that she went and prepared a bottle for Declan before taking him into her bed and carrying out mouth-to-mouth resuscitation.
She added: "He was blue. His lips were just blue. He just had this fixed look in his eyes."
Ms Hainey added: "I just kept thinking he'd wake up. I kept thinking I was going to wake up and it was a bad dream. It just couldn't be real. I remember getting his clothes together and I'd already prepared a bottle."
She was asked why she had not contacted neighbours or phoned the police and said: "My baby was dead and I couldn't believe it. It wasn't real. I kept thinking he was going to wake up. I just kept telling myself it wasn't real."
The court was told that sometime during that day she took Declan and put him in the cot in his bedroom.
Ms Hainey told the jury of eight women and six men: "I couldn't let him get away from me. If he was dead I wanted to be dead as well. I couldn't accept it.
"I didn't just put him in the room and shut the door. No mother would do that. I needed to get things organised."
Ms Hainey told the court that she continued to buy food and milk for Declan and also purchased Christmas presents for him.
'Still here'
She said she went to the chemist to get nappy rash cream for her dead son.
She also said she would sit and watch his cartoons.
Ms Hainey added: "It was like he was still here. I kept buying him clothes and had cartoons on sometimes. It sounds crazy, but I wasn't crazy. I didn't mean to hurt anyone.
"All I could see was my son and me. I kept picturing him going to school and growing up and happy and everything was back to normal."
Ms Hainey claimed that after Declan's death she turned to alcohol to "block out the pain".
She is accused of wilfully ill-treating and neglecting her son over a 19-month period between September 2008 and March last year at Bruce Road, Paisley.
The Crown has charged Ms Hainey with either murdering her son or alternatively of neglecting him by failing to provide medical care for him whereby his physical and psychological development were impaired.
It is alleged that she left her son alone and unattended in the house for excessive periods of time, and failed to provide medical aid and care for him.
The Crown alleges that Ms Hainey pretended that Declan was alive in an attempt to defeat the ends of justice between July 2009 and March 2010.
Ms Hainey denies all the charges against her. She has already been cleared of giving Declan drugs.
The trial before Lord Woolman continues.