Killer William Gage bids to overturn conviction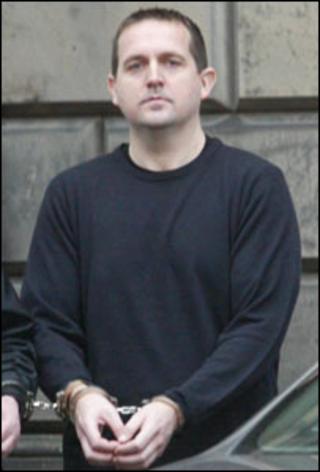 A man jailed for a gangland killing in South Lanarkshire has begun an appeal against his murder conviction.
William Gage, 40, was found guilty of shooting 30-year-old Justin McAlroy six times as he returned to his family home in Cambuslang in March 2002.
He was jailed for life and ordered to serve a minimum of 20 years in prison.
Gage has always protested his innocence and lost one appeal in 2006. His latest appeal was referred by the Scottish Criminal Cases Review Commission.
The commission investigates possible miscarriages of justice.
Drugs offence
Mr McAlroy was shot repeatedly as he returned home with his pregnant wife, Tracey.
Gage's trial heard the businessman was murdered outside his home, in Cambuslang's Acacia Way.
The court was told that Mr McAlroy had been leading a double life and had a conviction for a drugs offence.
While he appeared to be working in his family business, Mr McAlroy was also said to be mixing with drug dealers and heavily involved in the heroin trade.
Undercover police were said to have been keeping a watch on him for three years before his death.
His murder was supposed to have been ordered because he owed a drug debt of £50,000.
Gage's appeal aims to convince five judges at the Court of Criminal Appeal in Edinburgh that he did not get a fair trial and is the victim of mistaken identity.
Gage is also challenging claims that a burned out Saab car, which prosecutors said was a getaway vehicle, was used in the shooting.
He also claims that there are "substantial inconsistencies" in evidence about the clothing found in the case and said to link him to the shooting by traces of DNA and firearms discharge residue.
As Gage's appeal got under way on Tuesday, defence QC Maggie Scott, told judge Lord Hamilton, sitting with Lords Reed, Carloway, Mackay and Nimmo Smith, that the case against her client was circumstantial.
'Substantial risk'
It involved "quite a lot of bits and pieces of evidence pulled together," said the lawyer.
Ms Scott warned: "Identification evidence carries with it a special risk of wrongful conviction."
She added: "The way in which this evidence was obtained indicates a substantial risk of error."
Commenting on the trial result in a report to Gage's failed appeal in 2006, judge Lord Emslie remarked: "What is clear, however, is that there were exceptional difficulties to overcome if such a verdict was to be reached."
The hearing is expected to last for four days, with the appeal judges giving their ruling in writing at a later date.