Blantyre man who stabbed grandmother 16 times sentenced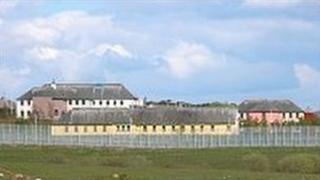 A man who killed a grandmother by stabbing her 16 times outside her home in South Lanarkshire has been ordered to be detained without limit of time.
Walter Weir attacked family friend Margaret Burke, 60, in Blantyre in July 2010 as she attempted to calm him down.
The High Court in Glasgow heard the 37-year-old is a danger to himself and to the public.
A psychiatrist said Weir experiences hallucinations in which he is told to harm others.
Weir was originally charged with murder, but the Crown accepted his plea to a reduced charge of culpable homicide on the grounds of diminished responsibility.
Dr Callum McColll diagnosed Weir as suffering from paranoid schizophrenia and anti-social personality disorder. This diagnosis was also confirmed by another psychiatrist.
Heard voices
Judge Lord Brailsford said: "I am satisfied having regard to Mr Weir's mental state I must impose a restriction order and a compulsion order.
"Weir will be detained at the State Hospital."
The court had heard that days before the killing Weir had been hearing voices and believed that everyone in Blantyre was out to get him.
Weir's mother and sister were so concerned about him that hours before the killing they phoned an ambulance and police, and also tried to get him to see his GP.
But when police and paramedics attended at the family home he appeared calm and they were unable to get him to go to hospital, and he refused to go voluntarily.
Hours later he took a Samurai sword and a butterfly knife from the house and went wandering round the streets of Blantyre.
In Parkhill Drive, Mrs Burke, who had known Weir for almost 30 years, went out and tried to calm him down.
CS gas
Adocate depute Andrew Miller, prosecuting, said: "She spoke to him for a few minutes and the situation appears to have been calm.
"They then walked towards Mrs Burke's home and she was heard to say: 'C'mon we'll get you a taxi up the road son.'"
The court heard that at the gate Weir turned to Mrs Burke who said: "What are you going to do, hit an old lady?"
Seconds later he struck her repeatedly with a knife.
The court heard Mrs Burke died from a wound which pierced her heart.
Weir was arrested by police later that morning. He initially refused to hand over the knife and police used CS gas to restrain him.
Defence QC Ian Duguid said: "No one can fail to be moved by the tragedy of this. This happened when the lady was coming to the assistance of the accused.
He added: "The accused's position is one of disbelief that someone known to him as a personal friend could have her life taken away from her by him."