Hainey trial: Guilty verdict sought over dead toddler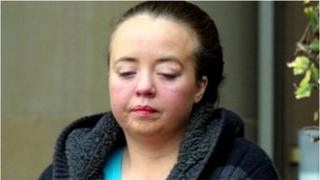 Jurors have been urged to convict a woman of murdering her 23-month-old son at their home in Renfrewshire.
The High Court in Glasgow was told the evidence against Kimberley Hainey was circumstantial but the jigsaw would fit together to deliver a guilty verdict.
Summing up for the prosecution, Andrew Stewart QC said the accused was an unreliable witness who had lied to social workers, family and friends.
Ms Hainey, 37, denies murdering her son Declan and other charges against her.
Declan was last seen in public, aged about 15 months around July or August 2009.
Alcohol abuse
His decomposed and mummified body was discovered in his cot at his home in Bruce Road, Paisley, on 30 March 2010.
Experts estimate he had been dead for months.
In his closing speech to the jury, Mr Stewart said that there were no concerns about the care of Declan until after his first birthday in April 2009.
He added: "After then things began to change. There were concerns about Kimberley Hainey abusing alcohol.
"Declan was being withdrawn from his wider family, he was being withdrawn from medical assistance.
"He was being left unattended and uncared for. From around the time of Declan's first birthday the period of time for which Declan was left got longer."
Mr Stewart said that according to her then boyfriend Robert Milton, Ms Hainey stayed with him for two days and said she claimed Declan was at her mother's home.
He added: "The Crown position is that Declan was being left on his own from around the the middle of April 2009.
Speaking of Ms Hainey, who was addicted to heroin before becoming pregnant and successfully undergoing a methadone programme, Mr Stewart said: "She lied to drug workers, she lied to health workers, lied to her family and friends. I suggest she has also lied to the court."
Suffered 'breakdown'
Defence QC Edward Targowski in his closing speech said: "Her position is that she did not kill her child. She found him dead when she woke in the morning and went to feed him. She then had a breakdown and took drink and drugs."
Mr Targowski told the jury of eight women and six men that Ms Hainey had suffered a breakdown in 1999 following the death of her uncle Hugh.
At the time she had a good job, a flat and a mortgage and went into a downward spiral after the uncle's death and began taking drugs.
Mr Targowski said: "We have a bright ambitious girl who couldn't cope with losing her uncle.
"What we have there is repeated later with the death of Declan."
Mr Targowski told the jury that Hainey was a devoted mother and Declan a cared for and wanted child.
He added: "The question is why did Declan die. We don't know. What did he die of we don't know.
"Children of Declan's age do die suddenly.
"Our position is that her actions do not show guilt. It shows someone who can not come to terms with the death of her son."
Neglect charge
Ms Hainey is accused of wilfully ill-treating and neglecting her son over a 19-month period between September 2008 and March last year at Bruce Road, Paisley.
The Crown has charged Ms Hainey with either murdering her son or alternatively of neglecting him by failing to provide medical care for him whereby his physical and psychological development were impaired.
It is alleged that she left her son alone and unattended in the house for excessive periods of time, and failed to provide medical aid and care for him.
The Crown alleges that Ms Hainey pretended that Declan was alive in an attempt to defeat the ends of justice between July 2009 and March 2010.
Ms Hainey denies all the charges against her. She has already been cleared of giving Declan drugs.
The trial before Lord Woolman continues.