Sharkey fire murders: New plea over Helensburgh deaths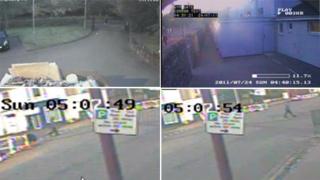 Police investigating the murder of three people in a deliberate house fire in Helensburgh have released new CCTV images of a man they want to trace.
Bridget Sharkey, eight, and her 21-year-old brother Thomas Jnr, died after their home was set alight on 24 July.
Their father Thomas Sharkey Snr, 55, died six days later. The only survivor was his wife and mother of the victims, 46-year-old Angela Sharkey.
Police said the investigation into the murders remains a "top priority".
Det Supt John McGovern said: "At this time of year, most people are looking forward to celebrating and spending time with their families, which will not be the case for Angela Sharkey whose husband and children died following the horrific fire at their house in July.
"Bridget was only eight years of age when she was murdered and she should be enjoying the excitement that Christmas brings for children of that age.
"A dedicated team of experienced detectives are still engaged in this investigation and we are very much committed to tracking down who is responsible."
Det Supt McGovern said that he was still trying to trace a man wearing a grey hooded top that was captured on CCTV images walking in John Street, near West Princess Street, about 05:00 on Sunday 24 July.
He added: "I can now release further CCTV images of a man walking near to Lomond School around 04:30 that morning.
"He appears to be walking in the direction of John Street from Stafford Street and, despite extensive inquiries, this man has not yet been identified and has not come forward.
"I cannot rule out the possibility that both sightings are in fact of the same person."
Det Supt McGovern urged anyone with information in relation to the images to contact police immediately.
"I firmly believe that the answer to solving these horrific murders lies within the community of Helensburgh," he said.
"We remain completely committed to this investigation which remains a top priority for Strathclyde police.
"Crimestoppers have also kindly agreed to an an extension period of a further three months for the reward of £10,000."