'Good response' over double sex attack in Glasgow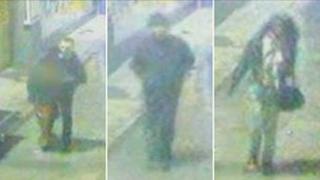 Police investigating a double sex attack in Glasgow city centre say they have had a good response to an appeal on the BBC's Crimewatch programme.
The victim, a woman in her early 20s, was dragged into McCormick Lane, near Buchanan Street, and sexually assaulted at about 02:25 on 30 January 2011.
After the first attacker left, a second man walked into the alleyway at 02:49 and sexually assaulted the woman.
Police want to trace a woman who walked into the lane during the first attack.
The woman police want to speak to was wearing a jacket with a furry hood.
Considerable struggle
Officers believe she may not have realised at the time that she was witnessing an attack, but may have crucial information.
They have appealed for anyone who recognises her from CCTV images to get in touch.
Police said the victim put up a considerable struggle and both her attackers may have sustained injuries.
They have appealed for information about anyone who came home with cuts or bruises on 30 January 2011.
Officers are also not ruling out the possibility that the second man was alerted to the woman by the first attacker.
They said that the woman would not have been visible from the street, yet the second attacker walked towards her "with great purpose".
Det Sgt Duncan Cameron, from Strathclyde Police, told Crimewatch: "The victim had went out with friends in a local nightclub in Glasgow, had a few drinks, and had fallen asleep within the club.
"This led to staff putting her out the back door, from where she walked to Buchanan Street.
"From there she has been targeted by a male who has dragged her into the alleyway and sexually assaulted her."
Pinned to the ground
Det Sgt Cameron said that having viewed CCTV footage of the incidents it would appear that there may have been "some sort of contact" between the two attackers.
The young woman who was sexually assaulted recalled some details of the attacks on Crimewatch.
Speaking under anonymity, she said: "I remember them (her attackers) being quite forceful towards me, pushing me up against the corner of the doorway and then pushing me down on to the ground."
She said she had been pinned to the ground during the attacks.
"I remember screaming for my friends as I thought they would have been back out to come and get me, but they never heard me," she said.