Vale of Leven loses mental health services to Gartnavel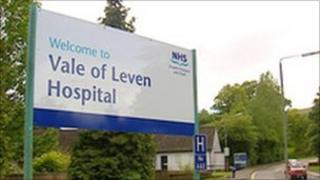 A controversial decision to transfer mental health services from the Vale of Leven in Dunbartonshire to Gartnavel in Glasgow has been approved by ministers.
The Vale's Christie Ward was earmarked for closure in 2009 and services were moved to Gartnavel after a fire gutted the ward in July last year.
The area health board backed the permanent transfer of services earlier this year despite local opposition.
Health Secretary Nicola Sturgeon has now approved that decision.
Ms Sturgeon said: "I have carefully considered all the available information and representations in terms of the proposals concerning the inpatient mental health services previously provided on the Christie Ward at the Vale of Leven Hospital.
'Compelling arguments'
"Whilst the government has a policy of maintaining local access to health care services where it is appropriate to do so, I am of the view that there are compelling arguments that the repatriation of this service is not in patients or local people's interests."
The health secretary said NHS Greater Glasgow and Clyde had made the case that a stand alone inpatient unit at the Vale of Leven would not be sustainable and and "require significant capital investment".
She said the health board had also "significantly increased the provision of mental health service provision in the community, in line with national policy".
Ms Sturgeon added: "This means that the vast majority of patients will continue receive the care they need in their local community, including enhanced crisis intervention services.
"Whilst I am convinced that this is the right decision, I want to reiterate my continuing commitment to a strong future for the Vale of Leven Hospital."
Robert Calderwood, NHS GGC chief executive, said he was pleased the health secretary had endorsed the health board's decision.
He said: "Patients and carers have expressed positive experiences at Gartnavel Royal, in particular the facilities were viewed as a significant improvement with patients all having single en-suite rooms, garden access and extensive recreational and therapy facilities.
"We have also made a major investment in community and primary care mental health services which again have received extremely positive feedback from patients and their carers."