Reward offered in Glasgow sex attacks case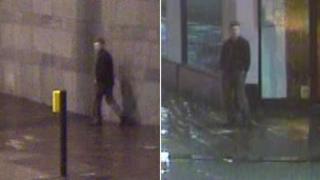 A reward of up to £5,000 has been offered for information leading to the conviction of a man who carried out two serious sexual assaults in Glasgow.
A 20-year-old woman suffered a serious sexual assault at about 04:00 on Wednesday and 15 minutes later a woman aged 22 was raped.
The attacks took place in James Watt Street, close to Broomielaw.
Detectives said they had received a positive response to CCTV pictures of a man they want to question.
The suspect in both incidents is described as a white man, aged 20-30, between 5ft 8in and 5ft 10in tall, with a slim to medium build.
He is said to have light or brown hair and spoke with a local accent.
At the time of the assaults he was smartly dressed, wearing a dark, fitted, long-sleeve shirt. He had a distinctive white or silver watch on his right wrist.
Det Insp Kate Jamieson said: "The suspect was well dressed and potentially came from a Christmas night out.
"I do know that he was in the general area of Cadogan Street, Argyle Street and Broomielaw for approximately an hour from about 3.20am.
"If anybody recognises the description I would urge them to come forward.
"It's crucial that we get him off the street as soon as possible."
Strathclyde Police have said extra officers would continue to patrol the area.
Ch Sup Val Thomson said: "Always try to stay with your friends and make sure you are looking out for each other in the city.
"If you feel uncomfortable about your own safety or someone else's safety, or if you're not happy about the actions of someone within the city, then let someone know about it."
The reward has been put up by Crimestoppers.
The charity's deputy chief executive, Dave Cording, said: "This was an extremely heinous attack on two women, with both suffering horrific ordeals.
"The person responsible for these attacks needs to be caught and brought to justice for his callous and cowardly actions, and the public can play a key role in identifying him."