'Stab' pensioner Alister Currie has jail term cut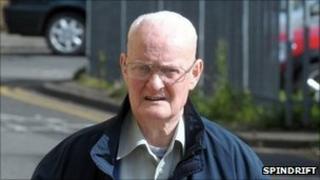 A 75-year-old man who carried out knife attacks on his wife and step-daughter at the couple's Dumbarton home has had his jail sentence cut by appeal judges.
Alister Currie was originally sentenced to four and a half years after he admitted attacking Myra Currie,71, and her daughter Karen Docherty, 49.
Describing him as a first offender with mental health problems, Lord Hardie cut Currie's jail term to three years.
The appeal judge, sitting with Lord Marnoch, described it as a tragic case.
At the Court of Criminal Appeal in Edinburgh, Lord Hardie said: "We acknowledge that a lengthy custodial sentence would normally be appropriate for offences of this nature."
"However, we do not consider the sentencing judge in this case has given appropriate weight to the diminished responsibility and the mental state of the appellant."
In September, Currie had pled guilty to striking his wife on the neck with a knife to her severe injury and permanent disfigurement and assaulting his step-daughter to the danger of her life.
The High Court in Glasgow had heard how Currie had a strained relationship with both women for several years.
Ms Docherty was visiting her mother when Currie armed himself with a craft knife and struck her on the head and body. Mrs Currie heard her screams and tried to get her husband to stop.
She dialled 999 and went to a neighbour's for help. Currie turned on his wife after she returned to the house.
Appeal judges were told by defence counsel James MacDonald that Currie was a frail first offender and seemed to have suffered "a loss of control" on the day of the offences.