Forensic tests on Stephen Pollock 'murder weapon'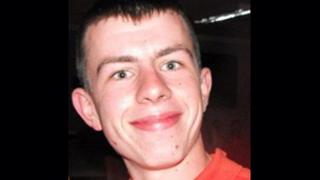 Forensic tests are being carried out on a gun which police believe was used to murder a man in Renfrewshire.
The firearm was recovered on Tuesday night on a railway embankment to the rear of Weaver Terrace in Paisley.
Stephen Pollock, 21, was found dead from a gunshot wound at a friend's house in Weaver Terrace on 21 December.
On Wednesday night, police stopped and questioned pedestrians and motorists in the local area in a bid to generate new information for their inquiry.
Det Sup Alan Buchanan, of Strathclyde Police, told BBC Radio Scotland: "We recovered a firearm two days ago on a railway embankment to the rear of Weaver Terrace which we believe to be the gun involved in the shooting although forensic tests are still to establish that.
Asked whether he thinks the gun is the murder weapon, he replied: "We believe so just now. We will know hopefully once the forensic tests have been carried out."
Forensic tests
On Wednesday night, a week on from the murder, police stopped and interviewed about 30 motorists and pedestrians in Paisley's Cathcart Crescent.
Police believe the local community holds the key to finding whoever murdered Mr Pollock.
Det Sup Buchanan told the BBC: "This was unusual that a firearm was used. We've looked at a number of lines of inquiry in relation to that.
"From the information we've received just now we believe that the answer lies within the community.
"We believe that certain individuals will know exactly what happened to Stephen. We're appealing for them to come forward and help us."
Mr Pollock, who worked at Sandyford abattoir in Paisley, was last seen alive at his family's home, about 10 minutes walk from the scene, at about 15:30 on 21 December.
He was found dead at a friend's house in Weaver Terrace at about 23:15.
Police are trying to piece together where he was in the hours between.
Last week his mother Nancy appealed for information which could help catch whoever is responsible for her son's death.
She said: "Our lives will never be the same and we will never get over not only losing Stephen, but losing him in such a horrific and tragic way - no family should ever have to put up with what we have suffered."