Strathclyde Police praise behaviour of 'Old Firm' fans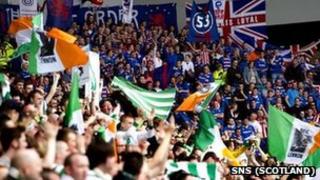 Police have praised football fans for their behaviour at Wednesday's Old Firm match and said there were no reports of sectarian singing throughout the game.
Celtic won the match 1-0 at home against Rangers, putting them at the top of the Scottish Premier League.
Strathclyde Police said 12 arrests were made in and around Celtic Park but none were sectarian-related. The arrests were a result of "low-level offending".
Strathclyde Police said it was an "Old Firm fixture at its best".
Assistant Chief Constable Campbell Corrigan said: "There were no reports of sectarian singing recorded by police and I would like to thank both sets of fans for their continuing commitment to reducing this type of behaviour.
"Various police operations were ongoing prior to the kick-off, including spot checks on buses and coaches travelling to the game and the number of people found with alcohol on board was very low.
'Good sportmanship'
He added: "Additionally, the level of drunkenness and disorder at licensed premises was significantly lower, which is testament to the licence holders in the pubs and clubs of Glasgow taking their responsibilities very seriously and we'd like to thank them for that.
"It was a great example of an Old Firm fixture at its best, with high drama and good sportsmanship."
Earlier this month, new laws designed to crack down on religious sectarian hate crime were pushed through the Scottish Parliament, however they have not yet taken effect.
The SNP used its majority at Holyrood to pass the Offensive Behaviour at Football and Threatening Communications Bill despite appeals from opposition parties for the legislation to be scrapped.
Two offences will be created by the legislation, targeting sectarian behaviour in and around football matches and on the internet.
Those convicted could spend as long as five years in prison and be banned from football grounds.