Father of fire victim Evan Mohammed on assault charges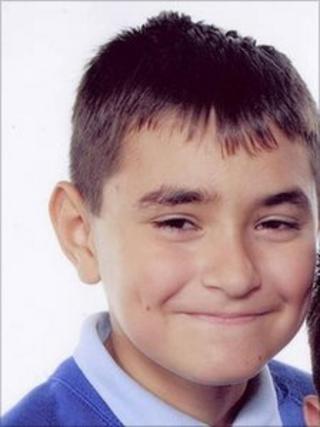 The father of a boy who died in a house fire has been charged with attacking the child's mother earlier in the year.
Saleem Mohammed, 46, denies headbutting Sheree McGill, 33, in the face, knocking her to the ground and kicking her repeatedly on the head and body.
He is also charged with threatening behaviour at the house in Altonhill Avenue, Kilmarnock, Ayrshire, in June.
He was granted bail but this was challenged by the Crown and he was remanded in custody.
At Kilmarnock Sheriff Court, Mr Mohammed was further charged with sending threatening text messages to Ms McGill and calling her obscene names.
A trial was set for a later date.
Nine-year-old Evan Mohammed died on Tuesday following a fire at the family home.
His mother and sisters Nya, three, Yasmin, four and Talia, 15, survived.
Ms McGill posted on Facebook: "I would just like to say although Evan is with the angels now, he passed away in his sleep and suffered no pain."