George Halliday jailed for 'children's ambulance' theft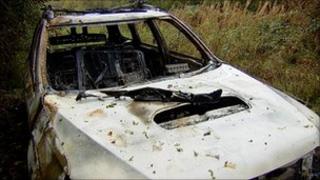 A drug addict who stole a fast response ambulance which was found burned out in Paisley has been jailed for 25 months.
At Paisley Sheriff Court, George Halliday admitted taking the Subaru Forester 4x4 from outside an on-call medic's home in Renfrewshire.
The 35-year-old also admitted breaking into the medic's house in September last year and stealing the vehicle's keys and other items.
Sheriff Susan Sinclair told Halliday his actions were "callous and selfish".
The court heard that specialist paediatric nurse Sandra Stark was asleep with her husband when Halliday and his accomplice forced their way into her house.
Plea accepted
They grabbed a set of ignition keys not knowing what vehicle they were for.
On discovering the keys were for the ambulance parked outside, they drove off in the vehicle before abandoning it in Paisley.
The ambulance was eventually found near Candren Road in Paisley's Ferguslie Park in a completely burned-out state.
Halliday, from Johnstone, had originally been charged with wilfully setting it alight but denied that charge and had his plea accepted by the Crown.
He admitted stealing the vehicle and breaking into the medic's house and stealing two sets of car keys, electrical items, a laptop computer, personal papers, bank cards and a number of NHS documents.
The court was told that police received information that Halliday had the laptop and NHS papers in his possession, and arrested him on 21 September after searching his home.
Halliday's lawyer Terry Gallanagh told the court that his client had developed a "deeply-entrenched heroin habit" after being attacked and stabbed more than 20 times.
Mr Gallanagh said this habit was so out-of-control, Halliday could only fund it through theft to obtain goods to sell.
Sentencing him, Sheriff Sinclair described the theft of the ambulance as "callous, thoughtless and selfish".
Ambulance replaced
She said that with its distinctive livery, Halliday and his accomplice must have known what they were driving off in.
She also condemned him for not making an anonymous call once it had been abandoned, to let police know its whereabouts.
She added: "I take the view that the theft of that particular vehicle is a serious aggravation."
The specialist vehicle which was donated to Glasgow's Yorkhill Hospital by Edinburgh motor dealership, AF Noble and Sons.
The Subaru dealership donated a replacement vehicle last October.