Murderer Alan Woodside jailed for murder threat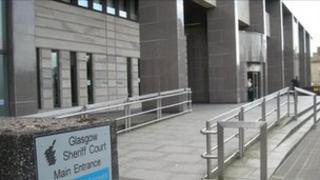 A convicted murderer has been jailed for six months after he told a man: "I'm going to murder you."
Alan Woodside made the threat to Hugh George outside Glasgow Sheriff Court on 21 September last year.
Woodside was visiting his sister at the time who was giving evidence against Mr George after he assaulted her.
The 35-year-old was out on life licence from Castle Huntly at the time of the offence after murdering John Hampson, 16, in Croftfoot, Glasgow, in 1998.
Glasgow Sheriff Court heard that Mr George was accompanied by his mother, father and two sisters, while he was awaiting trial for assaulting Woodside's sister.
Murder threat
He told the court: "We were all sitting and standing and talking away, next minute I realised someone was behind me and he said he was going to murder me."
Mr George also told the court Woodside then said to him that if he got outside he would be murdered and if he was sent to prison he would be murdered too.
Woodside then made his way to the witness area where his sister was sitting.
Before leaving the building he was then stopped by security after a member of the George family pointed him out.
Woodside denied making the threats and claimed he had only gone to the area outside the court to try to find his sister and when he saw Mr George told him to stay away from her.
His licence was recalled in October last year after this offence took place.
Sheriff Bill Totten ruled at the same court that Woodside, of Newton Mearns, had made the murderous threats and jailed him for six months.
Passing sentence he said: "Domestic abuse is very unpleasant, Hugh George has been convicted of domestic abuse in this case.
"I recognise that family members have understandable concern for sisters who are being abused, it is understandable that they want to support and protect members of the family who are being abused."
Brutal murder
But, he said it would be "misguided" to "back" what Woodside did at the court that day.
He added: "By coming to the court the accused made matters much worse obviously for himself and I think for his sister."
Woodside and his brother Alex were convicted of murdering 16-year-old John Hampson after their own mother gave evidence against them.
They killed the teenager with a bayonet knife through his chest and an axe to his head.
Their mother, Maureen, gave evidence at their trial that they had boasted about what they had done afterwards and that they each wanted to "take the credit".
She said Alan had boasted about stabbing Mr Hampson and Alex had bragged he had used the axe to split their victim's head open "like a coconut".
Mrs Woodside reported her sons when she found out what they had done and when they tried to flee to Coventry she alerted police.
It was reported at the time the pair believed the victim was a member of a gang who had attacked Alex but in fact he was just an innocent teenager out with his friends when he was chased and killed.