Ay family child asylum seekers win compensation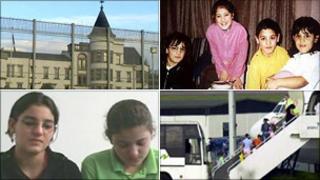 A family of Kurdish asylum seekers deported after spending a year detained in Scotland have won a Home Office compensation payout.
Yurdugal Ay and her four children, then aged between seven and 14, were returned to Germany in August 2003.
They had previously been lodged at the controversial Dungavel Detention Centre in Strathaven, Lanarkshire, for a year after living for in Northfleet, Kent.
It is reported a six-figure out of court settlement was reached.
The details of the payment cannot be revealed for legal reasons.
The family's lawyer claimed that they were detained unlawfully and for too long.
The Ay family made and lost a series of applications for refugee status in Germany over many years after they first arrived from Turkey in 1988.
After the applications failed they travelled clandestinely in a lorry to Britain in June 1999.
Moves to deport the family began after it was discovered that the Germans had already repeatedly dealt with their asylum claim.
A last-ditch application for asylum on behalf of the children failed and they were removed to Germany in 2003.
Beriwan Ay, now 23, told The Guardian newspaper: "We spent 13 months with my mum and the four children crammed into one room.
"Before we went to sleep each night the guards counted us, something we really hated.
"Now freedom for me means being able to sit in a room all by myself."
She added: "We're happy to have received this money. It sends us a message that what the Home Office did to us was wrong."
Solicitor Marcia Willis Stewart, who represented the Ay family in the civil action, told BBC Scotland News Online: "The story of the Ay family is really a reminder that we are far from perfect in our approach to human rights for children."
A UK Border Agency spokesperson said: "In March 2011 we established a new family returns process that ended the detention of children.
"This ensures that families with no right to be in the UK are given every opportunity to leave without the need for further action and are offered assistance at every stage.
"As a last resort where all voluntary options have failed, families may be held in our pre-departure accommodation at Cedars, which is run in partnership with Barnado's."