Ross Parker jailed for killing Margo Boulazreg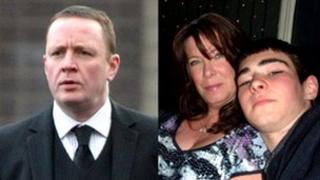 A drink driver who killed a charity worker after driving the wrong way along the M8 motorway in Glasgow has been jailed for six years.
Ross Parker, 36, was up to twice the legal limit when his car collided with 52-year-old Margo Boulazreg's Fiat Punto on 24 February 2011.
Mrs Boulazreg was trapped in the car and died at the scene.
Parker previously admitted to causing death by dangerous driving. He was also banned from driving for eight years.
The High Court in Edinburgh heard that Mrs Boulazreg, from Houston in Renfrewshire, worked for the charity Quarriers Village.
Victim screamed
On the evening of 24 February last year, she had been driving her son to a night out with friends in Glasgow.
Parker, from Glasgow's Jordanhill area, had left a bar in the city's south side and drove on to the eastbound carriageway of the M8 into the face of oncoming traffic.
Mrs Boulazreg was on the M8 at about 23:30 when Parker's car appeared in front of them.
The court was told how Mrs Boulazreg screamed and swerved her car to the left crossing into another lane where she straightened her vehicle.
Parker's car also swerved into the same lane where it collided with the front offside corner of Mrs Boulazreg's vehicle.
The impact caused a "huge amount of crush damage" to both cars, trapping Mrs Boulazreg inside her Fiat Punto. She died at the scene.
Parker was seen staggering out of his wrecked car looking "shaky".
He said to a young woman who had stopped at the scene: "I shouldn't even be driving. I'm wrecked."
As Mrs Boulazreg lay dead in her car, Parker added: "I just want a fag. I'm so drunk. I've wrecked everything about my life."
'Special person'
A blood sample from Parker was tested and found he could have been twice the drink-drive limit at the time of the fatal crash.
The court was told Mrs Boulazreg's son Callum suffered a fractured neck and also required surgery to his ankle.
Sentencing Parker, judge Lord Stewart said he appeared to be oblivious to road signs, road markings and warnings from other motorists.
He also paid tribute to his victim, saying Mrs Boulazreg was "a special person who devoted her life to others".
"I have read the victim impact statements and this close-knit family has been devastated," he said.
Family devastated
Lord Stewart told father-of-two Parker he accepted that his remorse over the crash was genuine and that he also felt anguish about the ordeal he had caused for his own family.
And as they left the High Court in Edinburgh, the victim's daughters said they hoped their tragedy would stop others getting behind the wheel after drinking.
Student Lauren, 20, said: "I believe personally that even one drink is too many when you are driving. Don't have even one - it is really not worth it."
She added: "This just goes to show how much devastation it can cause. Our lives will never be the same."
Sister Louisa, 23, who works in a restaurant, added: "I hope that this will at least stop one person from getting behind the wheel when they are under the influence of alcohol."