Family's appeal over missing Derek McNulty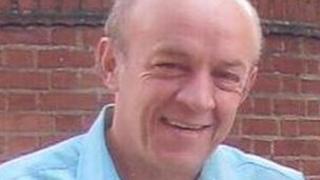 The family of a man who went missing in East Renfrewshire during severe weather earlier this month has appealed for help in finding him.
Derek McInulty, 48, from Burnbank, Hamilton, was last seen leaving a newsagents in Eaglesham on 3 January.
Strathclyde Police said his disappearance was out of character.
At a news conference on Thursday, his wife Gillian, 46, and 17-year-old stepson Phillip, urged anyone with information to contact police urgently.
During an emotional statement, Mrs McInulty said: "Derek, the family and I are all worried about you and are missing you, and want to know that you're safe and well.
"Derek, or anyone that knows where Derek is, please let us know or phone the police so that we know that you are okay."
Mr McInulty was last seen at about 07:00 at RS McColl's in Glasgow Road, Eaglesham.
He was there to pick up newspapers for the nearby Eglinton Arms Hotel, where he worked as a porter.
Mr McInulty has not been seen since leaving the shop.
His silver Suzuki Swift vehicle - registration SF51 YEU - has not been traced or registered on any road cameras.
According to police, the 48-year-old had some worries over money but there was nothing to suggest he had been the victim of criminality.
Mr McInulty previously lived in York and North Yorkshire Police have been informed of his disappearance.
He is described as about 5ft 6in tall, of medium build, with brown balding hair and green/brown eyes.
'Creature of habit'
He was last seen wearing a green or khaki jacket, black suit trousers, a blue shirt with the 'Eglinton Arms' hotel emblem on it as well as a name badge. He also had on black shoes.
Ch Insp David Walker, of Strathclyde Police, said: "Derek is very much a creature of habit and it is very out of character for him to deviate from his day-to-day activities.
"This is a normal family, there were some money worries, but nothing that you would say is out of the ordinary for somebody in the current financial climate.
"If you cast your mind back I think everyone had battened down the hatches at the start of January and there weren't many people at their work at that time, so the roads would have been very, very quiet.
"There might have been people looking out to see if there had been structural damage to trees or buildings, so they might have possibly seen Derek walking in the area, or seen his Suzuki Swift and thought that was unusual when the winds were so fierce."
Mr McInulty is a keen walker and police said all the regular routes he takes in the Clyde valley area had been checked.
It is believed he had little money on him when he went missing.