Drunk hit-and-run killer Gerard McGougan jailed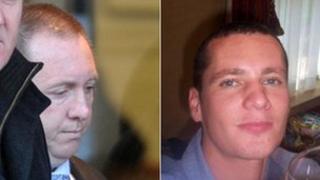 A hit-and-run driver who killed a pedestrian in North Lanarkshire after a nine-hour drinking session has been jailed for five years and five months.
Gerard McGougan, 46, downed 15 drinks before crashing into 33-year-old David Revells in Seafar Street, Cumbernauld, on 16 October 2009.
McGougan then fled the scene leaving his victim dead in the street.
He admitted charges of causing death by careless driving and of attempting to defeat the ends of justice.
The High Court in Glasgow previously heard that McGougan had started drinking at Puccini restaurant in Cumbernauld at about 12:00 on the day of the crash.
Drinks binge
He had one pint of lager with his meal then later had 12 more drinks at a nearby bar.
The court was told he went on the drinking binge after being told that his brother was dying of cancer.
The father-of-two later went on to the town's Mortimer's nightclub where he was asked to finish and leave after the manager noted that he was heavily intoxicated.
The court heard that Mr Revells was on his way to meet a friend about 21:00 in Glasgow for a night out.
He was crossing Cumbernauld's Seafar Road when McGougan's Vauxhall hit him.
A taxi driver discovered the victim lying on a grass verge minutes later but Mr Revells had already died due to massive head injuries.
McGougan, from Cumbernauld, returned home and told his wife that he had "hit somebody".
She called the police and McGougan later admitted to them he had been in an accident.
He claimed he had three vodkas after getting home, but only had a lager before the collision.
Family 'blameless'
A blood sample was tested and McGougan was found to be almost three times the drink drive limit.
Jailing McGougan, Lord Matthews told him: "Your family will see you again, but the same cannot be said for Mr Revells family."
"You have devastated your own family, who are of course entirely blameless in all of this, but you have also and more importantly destroyed the lives of Mr Revells' family.
"I have read statements from his mother and sister setting out the impact on them and I have no doubt that they find their words to be inadequate."
Lord Matthews said he could not criticise McGougan for drinking heavily after hearing about his brother's illness.
He added: "However, I cannot ignore the fact that, having consumed so much alcohol that the level was analysed as being around three times the drink driving limit, you decided to drive home."