Nichola Haddock recalls 'happiest day' over Abbie birth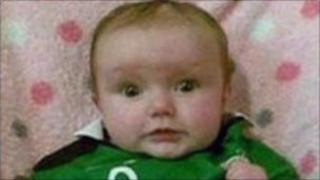 A woman whose baby daughter was allegedly killed by the child's father has told a murder trial that giving birth was the happiest day of her life.
Nichola Haddock, 31, was giving evidence at the trial of Craig Jamieson at the High Court in Glasgow.
He is accused of killing four-month-old Abbie at his then flat in Scotstoun, Glasgow, on 8 February 2008.
The 32 year-old denies the charge and has lodged a special defence incriminating Ms Haddock.
The jury heard how Ms Haddock had started dating Mr Jamieson in 2004 after meeting him at a Glasgow bar.
'Happiest day'
She had earlier moved from her home city of Belfast to start a university degree in social work.
The couple later lived together at a flat in Dumbarton Road in the city's Scotstoun area.
Ms Haddock told prosecutor Andrew Miller that she discovered she was pregnant in February 2007.
Asked how she felt, the 31-year-old replied: "It was the happiest day of my life."
When asked about Mr Jamieson, Ms Haddock said: "He showed the same excitement as I did."
The court heard Abbie was born on 22 September 2007 at the city's Queen Mother maternity hospital.
Mr Miller asked Ms Haddock how she felt about being a new mother. The witness replied: "I was delighted."
Assault charges
He then asked how Mr Jamieson felt about Abbie's arrival. Ms Haddock replied: "OK, I suppose."
The prosecutor then asked how the accused "interacted" with his new baby while in the flat.
Ms Haddock appeared to start sobbing and replied: "He didn't really."
The witness later told the jury how she got a call from a "panicked" Mr Jamieson on the day Abbie died.
She immediately dashed home from university after being told her daughter had bruising on her stomach.
The mother said she feared the baby could have meningitis or septicaemia.
Ms Haddock said: "I got into the flat and went straight into the living room. I called Abbie to say that I was home.
"Her chair was pointed towards the TV. She was quite pale and her eyes were staring into space.
"When I lifted her, her whole body went back. I screamed and fell to the floor on my knees. Craig called an ambulance. I was still holding her at that stage."
Head fracture
Ms Haddock recalled getting CPR instructions from a 999 operator, but felt she was "not making a difference".
When medics arrived, they put an oxygen mask on Abbie's face before rushing her into an ambulance to take her to Yorkhill.
Ms Haddock and Mr Jamieson were later told at the hospital that their daughter had suffered a head fracture.
Mr Miller asked the witness if she had an idea how Abbie may have had a head fracture. She replied: "None, whatsoever."
Ms Haddock told the court that she felt "numb" and was "constantly crying".
The jury heard Abbie's condition deteriorated and she died at hospital.
Assault charges
Mr Miller asked the witness when she last saw Abbie.
Sobbing, Ms Haddock replied: "That was in intensive care - she was on a bed. I was not able to hold her until she died."
Mr Jamieson, of the city's Knightswood area, also faces two allegations of assault against Abbie, which he denies.
These are said to have taken place on 7 December 2007 and between 1 February and 7 February 2008.
The trial, before Lord Matthews, continues.