Man arrested over rape at protest camp in Glasgow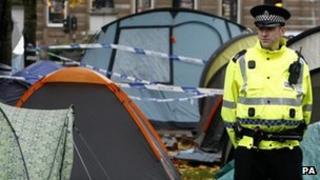 A 32-year-old man has been arrested in connection with the rape of a woman in George Square in October.
The alleged attack on the 28-year-old woman was said to have happened on 25 October while an anti-capitalist demonstration was taking place.
The camp, involving a number of tents, was set up on 15 October as part of an "anti-greed movement" taking place around the world.
The man is expected to appear at Glasgow Sheriff Court on Thursday.