Nichola Haddock denies harming dead baby Abbie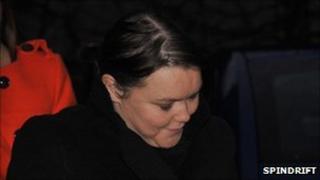 A woman whose baby was allegedly killed by the child's father has told a murder trial she never harmed her daughter.
Nichola Haddock, 31, broke down in tears at the High Court in Glasgow as she was asked whether she had ever assaulted four-month-old Abbie.
She was giving evidence at the trial of former lover Craig Jamieson, 32.
He denies killing his child at his then flat in Scotstoun, Glasgow, on 8 February 2008 and has lodged a special defence incriminating Ms Haddock.
During her second day in the witness box, prosecutor Andrew Miller asked Ms Haddock: "Did you deliberately harm your daughter in any way?"
She replied: "No."
Assault denied
Mr Miller went on: "Specifically on the night of February 7 or early on February 8 before leaving for university, did you assault Abbie or harm her in any way?"
A visibly distressed Ms Haddock sobbed: "No."
The jury earlier heard how Ms Haddock had initially backed Jamieson after his arrest and even had a another child with him.
Ms Haddock had sent an email to a lecturer in which she stated "this nightmare is untrue".
She added: "Until the day Craig admits to me that he harmed Abbie - which I know with all my heart that he never - I need to protect him."
Mr Miller asked her: "What was your state of mind regarding Mr Jamieson at the time of the email?"
Ms Haddock replied: "He was still innocent."
The court heard that Ms Haddock returned to her home city of Belfast before coming back to meet Mr Jamieson and his family on what would have been Abbie's first birthday in September 2008.
Ms Haddock said she still considered her and Jamieson to be in a relationship at that time.
Mr Miller asked the witness: "During that visit, your second child was conceived?"
'Attitude changed'
She replied: "Yes."
Ms Haddock later agreed her "attitude changed" towards Mr Jamieson in December 2008 and their relationship "fizzled out".
She is due to return for a third day on Friday to be cross-examined by Mr Jamieson's QC Gordon Jackson.
Mr Jamieson, of Glasgow's Knightswood area, also faces two allegations of assault against Abbie, which he denies.
These are said to have taken place on 7 December 2007 and between 1 February and 7 February 2008.
The trial, before Lord Matthews, continues.