Royal Navy man Aisea Yaranamua jailed for rape attempt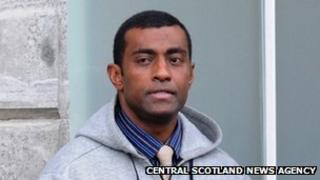 A Royal Navy engineer who tried to rape a woman in her own home after she had earlier rejected his advances in a pub has been jailed for seven years.
Aisea Yaranamua, 35, who is originally from Fiji, was convicted of attempting to rape the 50-year-old woman at her flat in Helensburgh on 5 November 2010.
Police arrived after the woman, whose 15-year-old son was at home, dialled 999 as Yaranamua forced his way in.
Yaranamua was also placed on the sex offenders register.
During his trial at the High Court in Dumbarton, the jury was told that Yaranamua had been in a pub in Helensburgh while his submarine was docked at the nearby Faslane naval base.
Accused naked
He followed his victim to her home in the town after she had earlier rejected his advances.
In a recording of her 999 call, after he forced his way into the woman's flat, she was heard pleading: "No, no. Please don't do this."
When police arrived they found Yaranamua naked.
He denied attempted rape and claimed the woman agreed to have sex with him.
The 35-year-old also claimed that most of the victim's 25 separate injuries were a result of him pulling her trousers off.
Jailing him at the High Court in Aberdeen, Lord Uist told Yaranamua: "This was a determined, brazen and shameless crime which amounted to a terrifying ordeal for your victim, as was clear from the recording of the telephone call which she made to the police.
"As a result of what you did to her she sustained multiple bruises and abrasions and was left in a state of great distress."
The judge said the gravity of the offence demanded a "heavy punishment".
He added: "This court must do all in its power to protect women from sexual attack by imposing sentences which deter such crimes.
"It is a most serious aggravation of this outrageous crime that your victim was attacked in her own home after you had followed her there and obtained entry to it."