Matthew Martin murder trial hears from accused's mother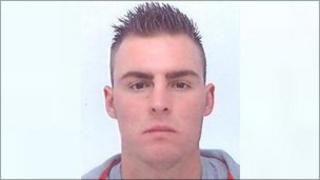 A mother reported her son to police after discovering a man had died in her home town, a murder trial has heard.
Margaret Deighan made an anonymous call saying her son Andrew was responsible for a "vicious assault " in East Kilbride in February 2011.
The 24-year-old is on trial at the High Court in Glasgow accused of killing former supermarket worker Matthew Martin. He denies the charges.
Mrs Deighan said she thought telling the police was the right thing to do.
Giving evidence, the 52-year-old recalled how her son had come to her home in the town's Chalmers Drive on the evening of 6 February "looking a bit agitated".
He later left, but returned and went upstairs before telling his mother he had been in a fight.
Mrs Deighan said: "He lifted up his top and showed me that he had a bat down his trousers and said that he had hit someone with it."
Mrs Deighan said her son claimed he had been "jumped" by three men, but that she could not see any marks on him.
She later told him to go home as he was due to go to Barcelona the next day for a charity walk with a friend.
Mrs Deighan said she later found out a body had been discovered at the Village Inn bar in East Kilbride.
She spoke to her son and told him if he had been involved, he should hand himself into police.
Baseball bat
Andrew Deighan was said to have told her to give him a couple of days to "get his head around it".
But, the mother recalled she instead contacted police by making an anonymous call at a telephone box.
Mrs Deighan told prosecutor Michael Stuart: "I said that the person you are looking for - for the vicious assault in the village - is Andrew Deighan."
She added: "I had found out someone had died. I was traumatised and did not know how to deal with it."
Mr Stuart asked: "You thought it was the right thing to do?"
Mrs Deighan: "Yes."
She later went to a police station with the bat and a top before giving a statement to officers.
Her son is accused of killing Mr Martin, 20, in Montgomery Street, East Kilbride, by striking him on the head with a baseball bat or similar instrument.
He is also accused of attempting to defeat the ends of justice and two separate assault allegations.
The trial, before Lady Dorrian, continues.