McTear's offers £10,000 reward for stolen jewels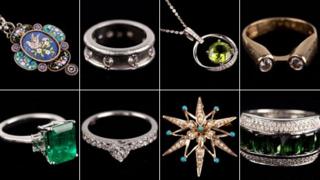 A reward of £10,000 is being offered for information that leads to the return of jewels stolen from a Glasgow auction house.
More than 300 items, worth about £430,000, were taken during a break-in at McTear's Auctioneers on Tuesday.
They included ladies' rings, earrings, bracelets and necklaces.
The auction house said it was offering the reward as it wanted to do everything it could to return the unique pieces to their rightful owners.
Police said a man was captured on CCTV entering the premises in Meiklewood Road at about 06:55 and leaving 20 minutes later.
A member of staff arrived afterwards to find the auction house unlocked, the alarm deactivated and the safe open.
Brian Clements, managing director at McTear's, said: "A number of our clients lost items in the theft and we want to do everything we can to recover the jewellery and return these unique pieces to their rightful owners.
"We are working closely with Strathclyde Police and the independent charity Crimestoppers as the inquiry continues and we are hopeful that the reward will help to uncover some additional information that will help the authorities to identify and prosecute those involved."