Court told dead schoolboy Jack Frew had 20 stab wounds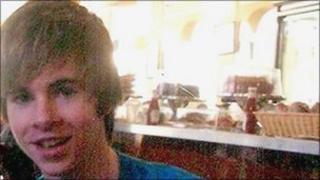 A pathologist has told the Jack Frew murder trial that the schoolboy suffered 20 separate stab wounds.
Dr Robert Ainsworth was giving evidence at the High Court in Glasgow, where Craig Roy is charged with murdering the teenager in East Kilbride in May 2010.
He told the court there was a 16cm cut across Jack's neck and his windpipe had been cut. There were also deep cuts in four fingers of his right hand.
Mr Roy, 19, admits stabbing 16-year-old Jack Frew but denies murdering him.
The jury heard that Jack, a fifth year pupil at Duncanrig High School, may have fought back as he was repeatedly stabbed.
Defensive wounds
Dr Ainsworth said a slash injury to four fingers on his right hand could have been inflicted as he tried to defend himself.
The pathologist told advocate depute Jennifer Bain, prosecuting: "It is a sharp injury to four fingers.. It is possible that he was trying to grab the knife."
Miss Bain added: "Is this an injury that could be described as defensive?" and he replied: "Yes."
The court heard that one of the stab wounds to Jack's neck cut through the carotid artery and the jugular vein and that he could have died from that injury alone.
Dr Ainsworth said that the cause of death was sharp force injuries to the neck and chest.
He told the jury that in the attack Jack's liver was cut, ribs were nicked and both lungs collapsed.
The witness said that the slash injury to Jack's neck, which measured more than 6in, cut his windpipe and would have restricted breathing.
The court was told that Jack, who was 5ft 6in tall and weighed seven-and-a-half stones, suffered a massive blood loss.
Dr Ainsworth was asked how long Jack could have survived after the knife attack and he replied: "A few minutes."
Blood loss
He was asked if while the injuries were being inflicted Jack could have shouted out or fought back and said: "Yes. He may have for a short time."
Miss Bain then asked if Jack could have survived if the emergency services had been on hand very quickly and he replied: "It's very difficult to say.
"The neck injury which cut the carotid artery and the jugular vein - that would bleed very quickly.
"Significant blood loss could occur within minutes. I think its highly unlikely further medical treatment would have saved him."
Dr Ainsworth was shown a photograph of the knife recovered from the wooded area adjacent to Wellelsley Crescent and Mossneuk Road, East Kilbride.
He was asked if that could have inflicted the injuries and he said: "Yes."
Under cross-examination by defence QC David Burns, Dr Ainsworth was asked if all the injuries could have been inflicted in a short period of time and said: "Yes."
The court heard that some of the stab wounds went through cartilage and bone.
'Psychiatric well-being'
Mr Burns asked: "The sort of force needed with a sharp knife would be at the lower end of the scale?"
Dr Ainsworth replied: "Yes, it would be."
The court also heard from police casualty surgeon Dr Gerard Murphy who carried out checks on Mr Roy days after the alleged murder.
The court heard Mr Roy had earlier been released from hospital having required surgery for a hand injury.
Prosecutor Ms Bain asked the doctor if he looked for anything regarding Mr Roy's "psychiatric well-being".
Dr Murphy said there was "no acute psychiatric problem".
The court also heard that Mr Roy told the GP that he used to scratch and punch himself to "relieve anger and stress".
Forensic scientist Marie Campbell told the court that she had examined the bloodstained clothing worn by Mr Roy on May 6 2010.
'Repeatedly stabbing'
She found the contact blood and blood spatter contained the DNA of Jack Frew.
Ms Campbell said the chance of it being anyone else's DNA was one in a billion.
She was asked by Ms Bain: "Would that be consistent with the wearer repeatedly stabbing at Jack Frew?" and replied: "If Jack Frew was bleeding, yes."
She added that Mr Roy would have had to be in close proximity to Jack when he was bleeding.
Ms Campbell also examined the knife found at the scene and said it contained a mixture of DNA and added: "The major DNA was from Craig Roy and there were traces of DNA from Jack Frew and would support an assertion that it had injured both Craig Roy and Jack Frew.
The trial before Lord Doherty continues.