Matthew Martin murder trial shown CCTV attack pictures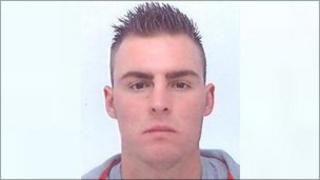 A murder trial has been shown CCTV footage of the alleged victim being hit on the head by a masked attacker the night he died.
The images were shown at the High Court in Glasgow where Andrew Deighan, 24, is accused of killing Matthew Martin, 20, in East Kilbride in February 2011.
Mr Deighan denies killing Mr Martin by assaulting him with a baseball bat.
He also denies two separate assault charges and attempting to defeat the ends of justice.
The court was shown graphic photographs of Mr Martin's body after it was discovered in a pub car park in the town.
'Masked' attacker
A number of CCTV clips from 6 February - said to be the day of the murder - were also shown to the jury.
Mr Martin was initially in the Montgomerie Bar with his father Bernard.
He was later spotted at about 23:20 with others near to the pub.
An individual - who appears to be masked - is then seen running towards Mr Martin and hitting him across the head.
The former supermarket worker seems to be unaware of his attacker before he is struck.
The court also heard from Det Con Paul Connelly - one of the officers who viewed the footage.
He said the attacker - who he claimed was "sprinting" - seemed to be clutching "a long, dark straight object".
Det Con Connelly went on: "I am no expert, but he has moved it back to get a full swing.
"My view is that this person has tried to hit him as hard as he could."
The detective told prosecutor Michael Stuart that it appeared Mr Martin was hit twice.
'Zig-zagging'
A number of people come to Mr Martin's aid before he is seen "zig-zagging" along the pavement and then out of shot.
His body was later discovered at the town's Village Inn pub the next morning.
Paramedic Lorna Weir said she was called to the car park at about 08:00 where it was quickly apparent Mr Martin was dead.
Ms Weir said: "When I got there, I noticed that he was lying face down. There was a small amount of blood from his ear."
The trial, before Lady Dorrian, continues.