Murder accused said Jack Frew was 'threat to relationship'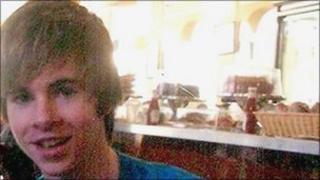 The Jack Frew murder trial has been told that the accused regarded the schoolboy as a "sex pest" and a threat to his relationship with another man.
Forensic psychiatrist Dr Sharat Shetty told the High Court in Glasgow that Craig Roy made the comments during a two-hour interview with him.
He also said the 19-year-old showed no signs of mental illness or disorder.
Mr Roy admits stabbing 16-year-old Jack Frew in East Kilbride in May 2010 but denies murdering him.
The court heard that Dr Shetty was a Consultant Forensic Psychiatrist with NHS Lanarkshire Mental Health Service, before taking up a post in New Zealand four weeks ago.
No disorders
He told the court that he examined Mr Roy on four separate occasions and found no sign of any mental health issues.
The psychiatrist told advocate depute Jennifer Bain, prosecuting, that he carried out a personality disorder examination on Mr Roy.
He said he would have preferred to also have had input from Mr Roy's family and friends, but stated: "There was no sign of a personality disorder. I'm fairly confident of that diagnosis."
Dr Shetty told the court he also examined Mr Roy to see if he was suffering from any mental health problems before or during the death of Mr Frew.
The court heard that Dr Shetty first spoke to Mr Roy in Addiewell Prison a week after Mr Frew's death.
He said: "Craig Roy was 17 at the time. He described himself as a shy, timid individual."
The court has heard that Mr Roy and Mr Frew were both pupils at Duncanrig High School in East Kilbride. Mr Roy was in 6th year and Jack was in 5th year.
Dr Shetty said that Mr Roy described himself as "a teacher's pet" at school and his schoolwork was good until his final year at school when it began to slip, which he claimed was in part due to his relationship with boyfriend Christopher Hannah.
'Sexual pest'
Mr Roy also told Dr Shetty that he wanted to study immunology at Strathclyde University and described Jack as a "sexual pest" who he had a brief sexual experience with.
Mr Roy then claimed that Mr Frew threatened to tell Mr Hannah.
Dr Shetty said: "He thought that Mr Frew was a threat to his relationship with Mr Hannah."
The psychiatrist said that Mr Roy told him he took a knife with him when he went to meet Mr Frew on 6 May 2010.
The witness added: "He said he wanted to show how serious he was and took a small knife with him.
"Mr Roy said he was not a threat to anyone and was pretty weak and took a knife to intimidate him.
"He said it showed he was serious about keeping his distance from Mr Frew. He was saying he wanted to intimidate him not attack him."
Dr Shetty added: "He felt he had to threaten him to show he was a strong person himself."
The witness told the jury that Mr Roy could remember nothing of the incident after Mr Frew allegedly tried to initiate sex.
'Very sad'
He added: "Leading up to the offence he was entirely normal. There was no evidence of mental illness when I examined him a week later."
Referring to Mr Roy reaction to Mr Frew's death, Dr Shetty said: "He expressed great remorse for what had happened and was quite tearful about it.
"He was very sad about what he had done and the impact it has had on Mr Frew's family."
Dr Shetty also said Mr Roy was not insane or suffering from diminished responsibility when he stabbed Mr Frew.
"There were no abnormalities that would impair his mind or give grounds for diminished responsibility," he said.
The psychiatrist was told by prosecutor Miss Bain that two defence psychiatrists claim that Mr Roy may be suffering from a personality disorder.
Anger outbursts
He agreed that Roy had some traits associated by personality disorders, but added: "The symptoms are not severe enough."
Under cross-examination, defence QC David Burns asked: "Mr Roy told you he had outbursts of jealousy or anger but didn't outwardly express it and instead destroyed some of his own things, do you consider that normal?" and Dr Shetty replied: "Yes."
Mr Burns added: "He told you about self harming by scratching himself, but you chose not to put that in your report," and Dr Shetty said: "That's correct."
Dr Shetty was then asked if he knew that Mr Roy's mother refused to allow his lover Christopher Hannah in their home and he replied: "No, he didn't tell me that."
The psychiatrist also revealed that Mr Roy told him he was suffering from anxiety, altered sleep patterns, had trouble sleeping and feared that Mr Frew would haunt him.
Mr Burns asked: "These are a possible feature of borderline personality?"
Dr Shetty replied: "Yes, but in my opinion it is more likely to be post-traumatic stress disorder."
Mr Burns told Dr Shetty that the case was about whether Mr Roy was suffering from a personality disorder which affected his action on 6 May 2010 and whether he would be found guilty of murder or culpable homicide and he replied: "That's correct."
The trial before judge Lord Doherty continues.