Jack Frew murder accused Craig Roy admits self harm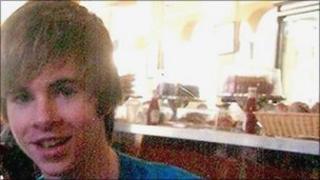 The teenager accused of murdering schoolboy Jack Frew has admitted hurting himself until he drew blood following rows with his boyfriend.
Craig Roy, 19, admits stabbing the 16-year-old but denies murdering him in East Kilbride in May 2010.
Giving evidence at his trial at the High Court in Glasgow, he described angry outbursts after rows with his lover Christopher Hannah.
He said he sometimes banged his head on the wall and cut himself with a knife.
The court has already heard that Mr Roy met up with Mr Frew in a wooded area in East Kilbride because he feared that the schoolboy would tell Mr Hannah he had been unfaithful.
Happy childhood
Giving evidence, Mr Roy told the court that he had a happy childhood and a good upbringing.
He said his school work began to suffer when he met a group of friends at Duncanrig High School, which was also attended by Mr Frew.
He said: "The people I met were very welcoming people. I was meeting people who were openly homosexual and that gave me an opportunity to come out."
Mr Roy was asked by his QC, David Burns, why he was not wearing his glasses.
He said: "I have never enjoyed speaking in public and I feel a lot more comfortable when faced with this when I can't see any one."
The accused described his first sexual relationship with his partner, Chris Hannah, whom he phoned on the night he killed Jack Frew.
At first their relationship was not exclusive, but eventually they decided it should be.
He said they argued when Chris turned 18 and started going to night clubs that he was too young to attend.
He described angry outbursts after the rows when he would try to hurt himself.
"I was hurting myself, scratching myself; sometimes spit on the wall," he said.
"To me, if I was looking at myself, it would look like I was having an epileptic fit. I just couldn't control it.
"I would scratch myself with my nails. I wouldn't be satisfied until I drew blood."
He also revealed he sometimes banged his head on the wall and cut himself with a knife.
Craig Roy later explained how he came to be carrying a knife.
He said: "Jack never took me seriously. He would laugh at me. I wanted to regain the control - I wanted it to be neutral.
"I felt at the time it was the only way to get my message across. I wanted to scare him and protect myself.
"I didn't know what he was capable of. Jack had proved he could not be trusted.
"To me it was the only way to scare him."
Earlier, the court heard from Dr John Crichton, a consultant forensic psychiatrist and clinical director at the Royal Edinburgh Hospital.
He was one of a number of psychiatrists who examined Mr Roy in the aftermath of Mr Frew's death.
During his second day of evidence, the psychiatrist told the jury: "Mr Roy seems to have acted out of character in a reaction to a perceived threat.
No disorder
"Nothing I have heard can explain the level of violence."
Dr Crichton added: "Mr Roy struck me as a pleasant young man. It is a tragedy not only for the victim of this alleged offence, but also for him."
He told the court that in his opinion Mr Roy did not meet the necessary criteria to be diagnosed with a personality disorder, although he displayed some personality traits.
The witness also said he was "not persuaded an abnormality of mind was present".
Dr Crichton was told that two defence psychiatrists believed that Mr Roy may have a personality disorder and said that was not his finding.
He added that if Mr Roy had had a personality disorder it would have been apparent to family, friends and teachers at Duncanrig High School where he was a sixth year pupil at the time of the alleged murder.
'Idealistic love'
The psychiatrist said that Mr Roy had an idealistic love for his lover Christopher Hannah and feared he would leave him.
Dr Crichton said: "He hopes he and Chris will get married. He will go to university and became an immunologist, though he said he might not get to see patients.
"He would like he and Chris to have children - a boy and a girl - and he thought would excel at sporting activities."
Dr Crichton added that Mr Roy told him he was "paranoid and jealous" of Chris.
The trial before judge Lord Doherty continues.