Andrew Mullen admits keeping five dogs for fighting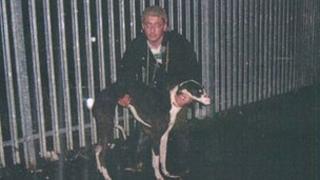 A 37-year-old man has admitted keeping five dogs at his home in South Lanarkshire for animal fighting.
Andrew Mullen was caught after police and Scottish SPCA officers raided his house in Uddingston in March 2010.
He was also found with 340 photographs on a laptop showing dogs fighting with foxes, badgers and other dogs.
At Lanark Sheriff Court, Mullen admitted breaching the Animal Health and Welfare (Scotland) Act 2006. Sentence was deferred until March.
The court heard that five dogs were found in kennels in Mullen's back garden.
Dogs scarred
The three lurchers, brown terrier-type puppy, and terrier bitch were later examined by a vet.
At least three of the dogs had injuries or scarring consistent with repeated involvement in fox or badger fighting.
Mullen said that he kept the dogs as pets and to show and denied actively using them to fight badgers.
He accepted that he allowed others to use them and that he knew the dogs he kept were to be used on badgers.
Photographs on his computer showed his dogs attacking badgers.
They also showed Mullen, and others unknown, digging and causing terriers and lurchers to fight with various animals.
They also showed dead foxes being laid out on the ground or held up by Mullen, apparently as trophies.
Following his conviction, area procurator fiscal Tom Dysart said: "The dogs found in Mullen's garden had multiple injuries and scars which showed they had been involved in recent and historic fights with badgers and foxes.
"Dogs used for animal fights suffer terrible injuries, some of which can be fatal. They rarely receive appropriate veterinary treatment.
"In pleading guilty, Mullen has accepted his disregard for the well-being of his dogs and of the animals with which they could be forced to fight."