Killer William Gage loses legal bid to overturn conviction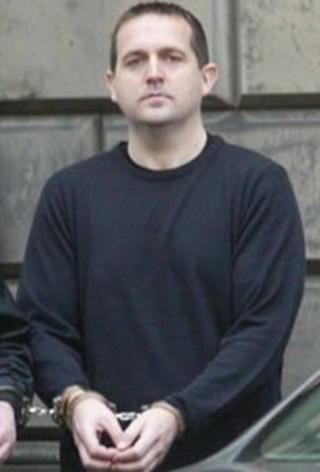 A man jailed for a gangland killing in South Lanarkshire has lost a legal bid to overturn his murder conviction.
William Gage, 40, was found guilty of shooting 30-year-old Justin McAlroy six times as he returned to his family home in Cambuslang in March 2002.
He was jailed for life and ordered to serve a minimum of 20 years in prison.
Gage has always protested his innocence and lost a previous appeal in 2006. His second was rejected at the Court of Appeal in Edinburgh.
Gage's latest appeal was referred by the Scottish Criminal Cases Review Commission, which investigates possible miscarriages of justice.
Drugs offence
Mr McAlroy was shot repeatedly as he returned home with his pregnant wife, Tracey.
Gage's trial heard the businessman was murdered outside his home, in Cambuslang's Acacia Way.
The court was told that Mr McAlroy had been leading a double life and had a conviction for a drugs offence.
While he appeared to be working in his family business, Mr McAlroy was also said to be mixing with drug dealers and heavily involved in the heroin trade.
Undercover police were said to have been keeping a watch on him for three years before his death.
His murder was supposed to have been ordered because he owed a drug debt of £50,000.
Gage's appeal sought to convince five judges at the Court of Criminal Appeal in Edinburgh that he did not get a fair trial and was the victim of mistaken identity.
Gage also challenged claims that a burned-out Saab car, which prosecutors said was a getaway vehicle, was used in the shooting.
He also claimed that there were "substantial inconsistencies" in evidence about the clothing which was said to link him to the shooting by traces of DNA and firearms discharge residue.
Judge Lord Hamilton, sitting with Lords Reed, Carloway, Mackay and Nimmo Smith, rejected his appeal.
Their written ruling stated: "Qualitative criticisms can undoubtedly be made of the evidence in each of these strands but, when the evidence is looked at as a whole, the case against the appellant was, in our view, compelling."
They added that they were not persuaded the trial was unfair.
Innocence protested
The decision concluded: "In all circumstances this appeal must be refused."
After telling Gage his appeal had been rejected, there were shouts heard from the public gallery of "the fight goes on" and "keep your head up".
Speaking outside court, Gage's solicitor, Aamer Anwar, said: "For eight years William Gage has protested his innocence and we will continue to do so.
"He is deeply disappointed by the decision.
"Once we have an opportunity to read the judgment we will consider whether to seek an appeal to the Supreme Court."