James Strachan jailed for murdering Malcolm MacPhee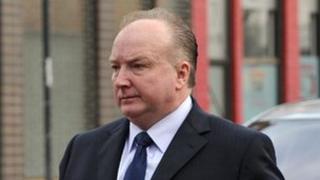 A man who was convicted of murdering his brother-in-law has been jailed for a minimum of 14 years.
James Strachan, 54, strangled 55-year-old Malcolm MacPhee during a struggle at the victim's home in Langside, Glasgow, in June 2010.
The High Court in Glasgow heard that Mr MacPhee had come the the aid of a woman who was being attacked by Strachan after she refused to perform a sex act.
As he was given a life sentence, Strachan said: "There is no justice".
The court heard that the murder happened at Mr MacPhee's home in Braemar Street.
'Scratching face'
Both men had previous business dealings with each other, but there was no animosity between them at the time.
Strachan - who had split from his wife of almost 30 years - had a disagreement that night with a woman staying with Mr McPhee after asking her to perform a sex act on him and she pushed him away.
The woman - who cannot be named for legal reasons - told the trial: "I was scratching his face when he had his hands round my throat.
"He was leaning over me and I continued to scratch his face until he released his hands."
She yelled for Mr McPhee - who had been watching football on TV - before she spotted Strachan with a pot and she fled from the house.
The woman told prosecutor Andrew Miller: "I had got to the door when I heard Malcolm (Mr MacPhee) shout something like: 'What are you doing?'.
"I then heard a scream. Malcolm screamed a scream I had never heard before and I just kept running."
She fled to a neighbour's home before returning to the property "hysterical".
She discovered Strachan and Mr MacPhee both lying on the floor.
The jury heard the woman's 999 call where she claimed Strachan had "flipped".
Self-defence claim
The court was told that father-of-three Mr MacPhee had died due to sustained compression of the neck.
Strachan had claimed during the trial that he had been acting in self-defence but the jury convicted him of murder.
The 54-year-old returned to the dock for sentencing on Friday without a lawyer.
He had earlier been represented by some of the country's top QCs - including Paul McBride and Gordon Jackson.
Strachan told Lady Dorrian that he had tried to get a solicitor before blaming witnesses, the prosecution and previous defence teams for his predicament.
He said: "There is no justice. I certainly did not murder anyone.
"I cannot understand where the democracy or justice is. These matters cannot be any more personal."
He also claimed "lies" lead by the prosecution were "absurd" and that his lawyers had been "cherry picked".
Lady Dorrian ordered Strachan to serve a minimum 14 years behind bars before he can apply for parole.
The judge said she accepted he was under "severe mental strain" at the time - but Strachan had at one point interrupted to say he was not.