Olympic security tested at Hampden Park football game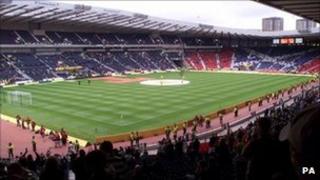 Security for the 2012 Olympics has been tested at a Scottish football match at Hampden Park stadium.
Some spectators arriving for the Scottish Communities League Cup semi-final were searched in a practice run for London 2012 football matches.
Equal numbers of Ayr United and Kilmarnock supporters were involved and given a quick search at the Glasgow stadium.
Hampden Park will host eight Olympic football matches.
The men's and women's games will be played between 25 July and 3 August.
Saturday's rehearsal involved all fans entering Hampden's North Stand at gate numbers 19-40.
Spectators entering the stadium at these gates were informed.
The test run was carried out by the London 2012 Organising Committee (Locog) with security partner G4S, along with Hampden Park and Strathclyde Police.
Speaking before the searches, Ian Thomas, head of security integration and delivery at Locog, said: "Testing of security operations is vital ahead of the Games and delays to spectators during this test are unlikely.
"We are working closely with our partners to ensure the smooth running of these tests and are grateful to spectators in co-operating in this invaluable rehearsal."
During the Games this summer, spectators at all Olympic venues will go through security tests, including all Olympic football venues.
Locog has already carried out security trials at other football matches around the UK.