Health board fined £24,000 over legionnaires case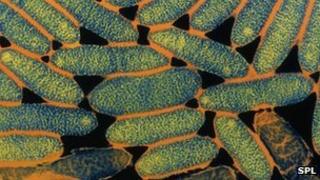 NHS Lanarkshire has been fined £24,000 over health and safety breaches which saw a woman get Legionnaires' Disease.
The 64-year-old developed the condition while being treated at Hartwoodhill Hospital in November 2008.
She was treated for this, pneumonia and severe sepsis at Wishaw General.
A subsequent investigation by the Health and Safety Executive (HSE) identified that legionella bacteria was present in three sources in the water system at Hartwoodhill Hospital.
Two of those sources, including the shower used by the patient on a daily basis, matched the strain of legionella bacteria that had caused her illness.
Hospital failings
The HSE investigation also established that a suitable and sufficient assessment of the risks from the potential presence of legionella bacteria to persons using the facilities had not been carried out.
It was also found that there was not a safe scheme in place to manage and control the risks of exposure to the form of bacteria in the water system at Hartwoodhill Hospital.
Elaine Taylor, head of the Crown Office health and safety division, said: "Over a significant period of time there was no suitable and sufficient assessment or management of the risks of there being legionella bacteria at Hartwoodhill.
"This resulted in members of the public, including patients who were relying on the hospital for their care, to be exposed to a risk from the bacteria.
"For one lady that exposure resulted in her contracting Legionnaires' disease, becoming very unwell and requiring surgery. The events were entirely avoidable."
The agent which causes Legionnaires' is a bacterium called Legionella pneumophilia.
People catch the disease by inhaling water vapour which contains the bacteria.