Glasgow 'gangster' Edward Lyons has crime cash seized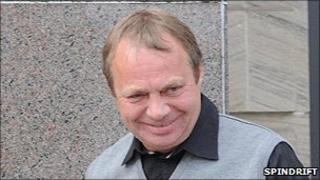 A member of a notorious Glasgow crime family is to have £75,000 in assets seized under proceeds of crime laws.
Edward Lyons, 53, was given 300 hours community service in 2010 after pleading guilty to two mortgage frauds and transferring criminal property.
A subsequent investigation found £148,793 of his income during the previous six years could not be accounted for legitimately.
The Crown can vary the amount seized if more cash becomes available.
Lindsey Miller, head of the serious and organised crime division, said: "Edward Lyons committed two mortgage frauds and transferred criminal property, both of which are serious offences in themselves.
"Transferring criminal property is classed as a 'lifestyle offence' under the Proceeds of Crime Act - allowing the Crown to investigate his income over the six years preceding his arrest.
"The court found that £148,793.71 of his income during this time could not be accounted for legitimately.
"We are satisfied that the £75,000 confiscation order represents the amount of money available to us from Lyons at this time."
During his 2010 court appearances, Lyons admitted defrauding £119,000 from Preferred Mortgages between May 2003 and August 2005 to buy a house in East Kilbride.
He also pleaded guilty to defrauding £140,000 from HBOS between June 2004 and January 2005 to buy his current home in Cumbernauld.
Lyons also admitted an offence under the act for giving his daughter £30,000 to buy a tanning salon in Dundee, using profits from the sale of the East Kilbride house.
The court heard that Lyons told lenders he was self-employed and earning up to £48,000-a-year when he was actually working at a community initiative earning just £20,000.
He bought the properties by self-certifying on mortgage applications, but was eventually caught out when he applied for a car loan and stated his correct pay.
Lyons, who is alleged to be in a long-running feud with another notorious crime family, was cleared of attempted murder in 2001.
The community centre where he worked was closed down in 2006 after his nephew, Michael, was shot dead and his son was seriously injured.
Police also seized £63,000 from his home in 2004 for alleged drug dealing.