Jury out in trial of Craig Roy over Jack Frew's death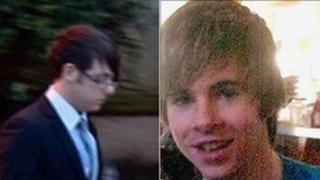 Jurors in the Jack Frew murder trial have retired at the High Court in Glasgow to consider their verdict.
Craig Roy, 19, admits fatally stabbing the 16-year-old 20 times and slitting his throat at woods in East Kilbride in May 2010 but denies murder.
His defence team claims he suffers from a personality disorder and should be convicted of culpable homicide.
Judge Lord Doherty told the jury of nine women and five men that they should not to rush to judgement.
In an address lasting exactly an hour, Lord Doherty explained what was necessary to prove a charge of murder.
'Wilful acts'
"You need to be satisfied that the accused's wilful acts caused the deceased's death and that the accused acted either with wicked intention to cause death or showed wicked recklessness as the victim's fate," he said.
He said Mr Roy was seeking to show he was of "diminished responsibility."
"If you decide that diminished responsibility has been established, your verdict will be culpable homicide," the judge said.
The defence has brought psychiatric witnesses to court to back their claim Mr Roy is suffering from a personality disorder.
After 12 days of evidence, Lord Doherty told the jurors they should approach their task carefully and calmly.
He added: "Put out of your minds any prejudice you may have - any sympathies you may have for anyone involved in the case.
"Nor can you be swayed by the consequences of your verdict."