Jack Frew's family want 'maximum sentence' for Craig Roy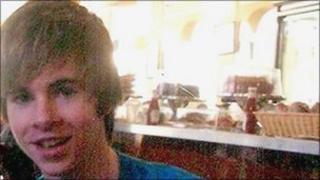 The family of Jack Frew has called for his murderer Craig Roy to be given "the maximum sentence possible".
In a statement following the verdict at the High Court in Glasgow, they said Jack had his life "snatched from him" and his good name "tarnished" by Roy.
Roy, 19, faces a life term for stabbing Jack in East Kilbride in May 2010.
His defence team asked for a verdict of culpable homicide due to diminished responsibility but the jury reached a unanimous verdict of murder.
The Frew family statement said: "This trial is now over...Jack's family have sat through 11 days of harrowing and distressing evidence.
"The verdict could have been none other than murder because that's what it was. Cold, calculating and planned murder.
'Wicked words'
The statement added: "Not only has Jack had his life snatched from him but his good name has been tarnished by wicked words and lies which were unfounded.
"The family can only take comfort from the fact that those who knew Jack know and remember what he really was like.
"He was a happy, loving, vibrant boy who loved life and brought fun and laughter to every situation.
"Jack loved people, had the world at his fingertips with a promising future ahead and he would have made the most of every minute.
"Since the night of 6th May 2010 many professionals have been involved with Jack's family.
"Some they have met face to face and many, many others have been working behind the scenes."
The family said everyone had been "kind and supportive", from the police and ambulance crews to the court officials.
'No end'
The statement went on: "The family wish to convey their thanks to every single person who has had any involvement in the case, so ensuring a satisfactory conclusion, and with particular thanks to advocate depute Jennifer Bain and her team.
"The accused is now awaiting his sentence, however long that may be, his incarceration will come to an end eventually but for Jack's family a life sentence from which there is no end is just beginning.
"We can only hope that Lord Doherty inflicts the maximum sentence possible for this violent and atrocious crime.
"Finally, the family ask that their privacy is respected to allow them time to try to come to terms with the tragic devastating and needless loss of Jack."