David Craig admits Neil Lennon abuse on Facebook page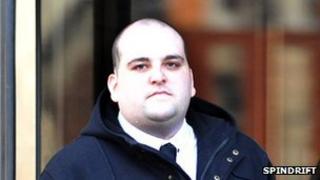 A man who admitted posting a picture of Neil Lennon covered in bullet wounds on a social networking site will find out next month if he is to be jailed.
David Craig also posted abuse about the Celtic manager and Rangers slogans on his Facebook page after the so-called Old Firm "shame game" in March 2011.
At Glasgow Sheriff Court he admitted behaving in a threatening or abusive manner likely to cause fear and alarm.
The 24-year-old was released on bail and sentence was deferred until March.
The court was told that on 2 March 2011, there was a game between Celtic and Rangers at Celtic Park.
'Sectarian hostility'
Prosecutor Mark Allan told the court that the match took place in "even by the standards of this game, a particularly volatile atmosphere" and said that in the aftermath there developed an "escalating climate of violence, community disorder and sectarian hostility".
It was heard that following intelligence, police investigated the Facebook site created by Craig, on 14 March 2011.
Access to the page was freely available to the public with no security restrictions which allowed full access and viewing of material contained on the account.
The court was shown a photograph Craig had copied onto his Facebook page, of Mr Lennon wearing a Celtic top and with several bullet wounds on his torso and one on the centre of his head.
On the front of his body were the words "Dead man walking" and underneath was a caption reading: "Neil Lennon dead man!!!!!! UVF1".
Mr Allan said: "The image prompted responses from others which can be seen on the same production below it."
They read "Aw that's going to happen" and "Aw how I would love to be the one to pull the trigger".
The picture was posted the day after the football match.
The court was told that through a numbers of postings by the accused and others, a series of exchanges containing sectarian abuse infused with Northern Irish political phrases and Rangers slogans.
Craig, from Paisley, also left messages calling for Mr Lennon to be "hanged" and referred to him as a "wee fenian poof".
Banning order
Craig was later detained and, after an interview, cautioned and charged.
He told police he wanted to apologise and that he had friends and family who were Celtic fans and was having "banter".
Mr Allan invited the sheriff to impose a football banning order when Craig is sentenced.
Sheriff Martin Jones QC deferred sentencing until next month and released Craig on bail.
Speaking after the hearing, Barry Dickson, football liaison prosecutor for the west of Scotland, said: "The vast majority of football supporters in Scotland are dedicated and enthusiastic and find behaviour such as this abhorrent and totally unacceptable.
"We are absolutely committed to the investigation and prosecution of those either being involved in, or promoting, sectarianism, religious offences and related disorder and violence.
"Such activity committed by persons who claim to be fans of the game blights the good name of Scottish football and will not be tolerated."