Auxiliary nurse criticised over Catherine Hattie's death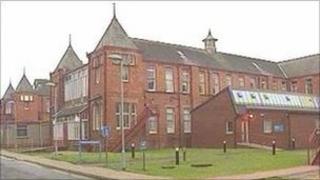 A fatal accident inquiry (FAI) into how a pensioner died after falling inside a hospital bathroom has criticised the healthcare assistant supervising her.
Catherine Hattie, 79, died in Stobhill Hospital, Glasgow, on 3 March 2006, after falling the night before.
The inquiry at Glasgow Sheriff Court heard that Mrs Hattie fell while nursing auxiliary Lia Clark had turned around for "just seconds".
Sheriff Andrew Normand said she should have taken greater precautions.
Mrs Hattie had suffered from breathing problems after the cancer surgery she received at the hospital in January 2006.
Sore ear
By 1 March she had improved and was able to walk with the aid of a zimmer frame and one nurse.
The inquiry heard that on 2 March, Mrs Hattie called to go to the toilet and that Ms Clark helped her out of her bed.
Ms Clark's recollection was that she walked to the side of, or just behind, Mrs Hattie with her hand behind her back although did not remember any physical contact.
On her way to the toilet, Mrs Hattie complained of a sore ear and her balance was a bit off but Ms Clark said she was walking "perfectly fine".
Once in the toilet, Ms Clark turned her back on Mrs Hattie - who was standing in front of her - for "just seconds, two seconds".
She told the inquiry she heard a "slight rattle" which she thought must have been Mrs Hattie's zimmer but when she had turned round she had fallen on to the floor.
Mrs Hattie was later found to have a fractured rib on her right hand side and to have suffered a liver laceration which resulted in internal bleeding.
She died early the next day with her family at her bedside.
'Reasonable precautions'
In a written judgement, Sheriff Normand said: "There is no determination about reasonable precautions whereby the death might have been avoided.
"The reasonable precautions whereby the accident resulting in the death might have been avoided were that nursing auxiliary Clark should have remained in a position in the toilet to continue to observe Catherine Hattie, in sufficiently close proximity to Catherine Hattie to be able if necessary to render her assistance and prevent her from falling or catch her if she did.
"Or, nursing auxiliary Clark should have returned Catherine Hattie to a sitting position while she briefly turned away from her and left her side."
He added that there was no determination about defects in any system of working which contributed to the death or any accident resulting in the death.