Craig Jamieson guilty of murdering baby daughter Abbie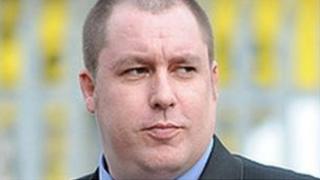 A man has been convicted for the second time of murdering his baby daughter at the family home in Glasgow.
Craig Jamieson, 32, was found guilty after a re-trial of killing four-month-old Abbie at a flat in the city's Dumbarton Road in February 2008.
His original conviction and 16-year minimum jail term were overturned due to the way the judge at first trial gave legal directions to the jury.
Jamieson faces a mandatory life term when he is sentenced for a second time.
He had denied killing his daughter and had lodged a special defence blaming the child's mother, Nichola Haddock, 31, for her injuries.
Abbie Jamieson was born on 22 September 2007 and died on 8 February 2008 as a result of severe head and abdominal injuries.
In April 2010, Craig Jamieson was sentenced to life imprisonment for her murder, with a minimum period of 16 years, but in February 2011 his conviction was overturned by the Appeal Court.
Appeal Court judges granted the Crown's application for authority to bring a fresh prosecution.
Speaking after the guilty verdict at the second trial, John Dunn, area procurator fiscal for Glasgow and Strathclyde, said: "Craig Jamieson's conviction for the brutal murder of his infant daughter Abbie demonstrates the commitment of the Crown to ensure that those who are guilty of murder and other serious offences against children will not escape justice."
Sentence on Jamieson has been deferred until the end of March.
The court heard during the retrial that Jamieson had been left alone with his daughter while Ms Haddock left for her studies at Glasgow Caledonian University.
He later attacked the child leaving her with a "catastrophic" head fracture. Ms Haddock got a call from Jamieson that Abbie was pale and had bruises on her stomach.
She rushed back, but, by the time she returned, Abbie was almost dead.
A distressed Ms Haddock recalled: "I got into the flat and went straight into the living room. I called Abbie to say that I was home.
"Her chair was pointed towards the TV. She was quite pale and her eyes were staring into space.
"When I lifted her, her whole body went back. I screamed and fell to the floor on my knees. Craig called an ambulance. I was still holding her at that stage."
Abbie was taken to hospital but staff were unable to save her.
Experts said the four-month-old had been hit off a hard surface like a wall or worktop and she had also suffered massive abdominal injuries.
Deliberate harm
Jamieson was later charged with his daughter's death, but Ms Haddock initially stood by him.
She sent an email to a lecturer in which she claimed "this nightmare is untrue".
Ms Haddock added: "Until the day Craig admits to me that he harmed Abbie - which I know with all my heart that he never - I need to protect him."
The jury heard she then went on to have a second child with Jamieson before they finally split in December 2008.
It was around that time Ms Haddock learned the truth of how her daughter died.
Jamieson - during both trials - blamed his ex-partner for injuring Abbie.
Ms Haddock - who again returned from her home city of Belfast to give evidence - broke down in tears when Jamieson's claims were put to her.
Prosecutor Andrew Miller asked her: "Did you deliberately harm your daughter in any way?"
Ms Haddock sobbed uncontrollably and replied: "No."
Jamieson, of the city's Knightswood, pretended to the jury that he was a doting dad who "loved" his daughter.
His QC Gordon Jackson asked: "Did you hurt this child?"
Jamieson: "Not at all - I certainly did not hit her."
In his closing speech to the jury in the re-trial, prosecutor Mr Miller said only Jamieson knew what happened the day Abbie died.
He added: "Craig Jamieson attacked her that morning and caused there fatal injuries.
"It is time for him to take responsibility finally for the things that he did that morning.
"What motive can there be to inflict injuries on a four month old baby girl?"
After Jamieson was found guilty for the second time, Lord Matthews remanded him in custody.