Rangers FC looks for creditors deal to avoid liquidation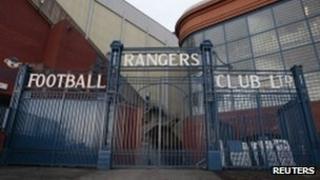 Rangers FC is set to enter talks with creditors in a bid to save the club from possible liquidation.
Owner Craig Whyte said the club could face disputed tax bills of up to £75m from HM Revenue and Customs (HMRC).
Rangers hope to negotiate a creditors agreement which would see HMRC and other parties accept less than what they believe they are owed.
A source close to the negotiations told BBC Scotland that HMRC seemed likely to adopt a hardline stance in any talks.
Mr Whyte confirmed on Monday that Rangers had filed legal papers at the Court of Session in Edinburgh to appoint administrators.
Embattled club
The club now has 10 days to make a decision on whether to proceed.
The financial storm engulfing Rangers has several fronts.
Mr Whyte has acknowledged that the club has a £10m deficit in annual running costs.
It was reported last week that the chairman had also borrowed up to £24m against four years of future season ticket revenue from Ticketus.
Most serious of all, Rangers awaits a tax tribunal decision over a disputed bill, plus penalties, totalling £49m.
Mr Whyte was reported on Monday as saying this potential liability to HMRC could reach up to £75m if the club lost the tribunal.
In a statement, the chairman said Rangers' immediate future now lay in the hands of HMRC.
"If HMRC were to agree, even at this late stage, a manageable agreement with the club, then a formal insolvency procedure could yet be averted," he said.
"It goes without saying that would be our preferred outcome.
"If not, further investment in the club would be impossible as the threat of winding up by HMRC cannot be removed.
"The Rangers FC Group, the majority shareholder in the club, is prepared to provide further funding for the club on the basis the funding is ring-fenced from the legacy HMRC issue."
Mr Whyte said Rangers had engaged a specialist restructuring practice, Duff and Phelps, to assist in finding a solution to the present position.
On Tuesday, the London-based firm said it would seek to help the club reach an agreement with HMRC.
In a statement, it said: "Duff and Phelps has been engaged by the directors of the Rangers Football Club plc (RFC) to assist its negotiations with HMRC, and possible restructuring options.
"As a result the inability of RFC to conclude negotiations with HMRC, the board of directors have filed a notice of intention to appoint administrators.
"The purpose of this notice is to provide a moratorium against potential creditor actions.
"Meetings are due to take place with HMRC in relation to the tax position of the company.
"Management remain hopeful that with the assistance of HMRC a consensual and solvent solution can be found. In the meantime RFC is continuing to trade as usual."
BBC Scotland understands that Rangers' negotiating team expects HMRC to adopt a hardline stance.
If a creditors agreement - or Company Voluntary Arrangement (CVA) - cannot be agreed, the club's future would hang in the balance.
Liquidation threat
In such an eventuality, the two legal routes open to Mr Whyte as the main secured creditor would be to pursue receivership or pre-pack administration to satisfy the debts which the club owes.
These would involve transferring Rangers' assets out to another company or companies to satisfy outstanding debts and leaving the club behind with the debt.
If any of these avenues were taken, the 139-year-old club would, almost certainly, be wound up.
A new company could then be formed which would seek to carry on Rangers' name and traditions.
It would, however, have to overcome a number of sporting and legal hurdles to participate in any of Scotland's senior league divisions.