Five teenagers on trial for murder of Christopher Knox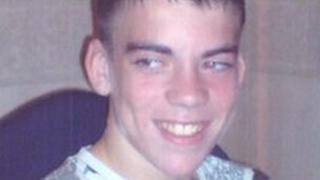 Five teenagers have gone on trial accused of murdering a 17-year-old man to prevent him giving evidence in a court case.
David Paton, 17, Sean O'Neill, 19, John McCowan, 17, Adam Johnston, 17, and David Rice, 18, all from Greenock, deny murdering Christopher Knox in Greenock, on 10 June last year.
Mr Knox was a witness in an assault and robbery case against Mr Paton.
The five accused deny a number of charges against them.
It is alleged that in a bid to intimidate Mr Knox and prevent him from giving evidence, they acted in an aggressive manner towards him, said he had "grassed", threatened him with violence, challenged him to a fight, chased him, repeatedly punched and kicked him on the head and body and struck him on the body with a knife and murdered him.
Delivery driver
Mr McCowan is also accused of attempting to defeat the ends of justice by cleaning a knife and asking Scott Irvine to say he had been at home all night. He denies this.
Mr Paton also denies four separate charges of robbing delivery drivers of takeaway meals in Greenock between 14 January and 26 April 2010.
In evidence, 16-year-old Connor Murray was asked by advocate depute Peter McCormack, prosecuting, if he remembered being in Flatterton Road in Greenock on 26 April with Mr Paton when a delivery driver was robbed.
Mr Murray told the jury he could not remember.
Mr McCormack then asked: "Do you remember whether or not you robbed a pizza delivery driver?" He replied: "I don't remember."
Under cross-examination by defence QC Jim Keegan, representing Mr Paton, Mr Murray was asked: "The police found out that the phone that called the delivery driver belonged to Christopher Knox?" He replied: "Yes."
Armed with pole
The court heard that police had suggested to Mr Murray that he and Mr Paton had used Christopher's phone to make the call to the delivery driver.
Mr Keegan then asked him: "Are you denying any involvement in this robbery?" He replied: "Yes."
Delivery driver Ross White, 21, told the court that on that date he delivered a takeaway to Flatterton Road.
He said that when he knocked on the door there was no reply. As he walked back to his van he was approached by two males - one armed with a pole and the other with a brick.
Mr White told the court: "One of them said: 'Give me the food.'"
He told the court he handed over the takeway.
The trial before temporary judge Rita Rae QC continues.