Rangers administration: HMRC says club was 'treated fairly' over tax debts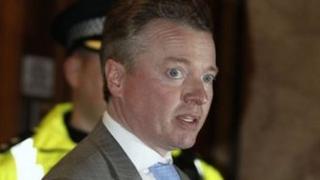 The tax authorities have denied claims that Rangers Football Club is being treated unfairly over its tax debts.
Craig Whyte, who took over the club last year, had suggested that officials seemed to be determined to "make an example" of Rangers.
The Ibrox club was forced into administration last week over an unpaid tax bill of £9m.
HMRC said its action against Rangers was a last resort and that it did not do deals on tax with companies.
A spokesman for HMRC said: "We can't discuss specific cases for legal reasons, but tax that has been deducted at source from the wages of players and support staff, such as ground keepers and physios, must be paid over to HMRC.
"Any business that fails to meet that basic legal requirement puts the survival of the business at risk."
In a statement issued on Tuesday, Mr Whyte said: "Given that HMRC had seen fit to reach agreements with huge corporations owing far more than Rangers - Vodafone, for example - it was difficult to understand why they were being so inflexible unless, of course, they were simply determined to make an example of Rangers."
But that suggestion was flatly rejected by the HMRC spokesman.
He added: "Any business that regards paying tax as an optional extra after other expenses are met, or that uses tax collected from employees or customers as working capital, is potentially heading for trouble.
"There is little HMRC can do for a business - be it a football club or not - whose viability is dependent either on not paying the UK taxes to which they are liable, or on special treatment not available to other customers with similar tax affairs."
Extremely loyal
Meanwhile, Duff and Phelps, the administrators of Rangers Football Club, have issued another statement.
David Whitehouse, joint administrator said: "The Rangers fans have been absolutely tremendous over the last 10 days and it's vital to the administration process that we continue to receive the support we have had thus far.
"Ibrox was sold out last Saturday and hopefully that can be the case for the rest of the season. The fans are clearly extremely loyal to Rangers and by coming to matches at Ibrox they are directly contributing to the club's future."
He added: "Our focus is on generating income for the club but there is also a focus on costs and the steps we are taking in terms of the cost base of the club will evolve during the next week.
"On a daily basis we are talking to department heads and seeing where there is capacity for cost savings but being very mindful of the need to both to preserve the performance on the pitch and retain the efficiency of the club off the pitch as well.
"Overall, I would describe the situation as positive. Everybody recognises the plight that the club is in and have come to the table to help and assist where possible."