Rest and Be Thankful in Argyll reopens after landslip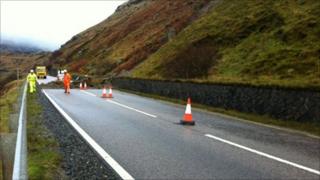 The A83 Rest and Be Thankful in Argyll has reopened after being closed by a landslip.
The route was closed on Wednesday when between 30 and 50 tonnes of material slipped down the hillside but did not reach the road. It was the fourth time in five years that a landslide caused the road to close.
It reopened at 10:30 on Friday morning.
A spokesman for Transerv said the route would be closely monitored over the next few days.
The landslide followed a period of very heavy rain in the area around Tyndrum. It left motorists facing a 26-mile detour.
The route has been blocked by landslips in 2007, 2009 and again last year.
Earlier this month, Transport Minister Keith Brown announced a further £1m would be spent on helping to deal with future landslips in the area.
This was in addition to a recently commissioned study which is investigating the feasibility of longer-term options.