Baseball bat murderer Andrew Deighan given life sentence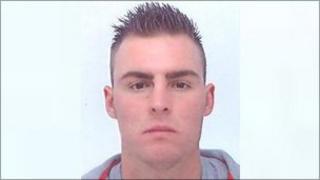 A man who clubbed an innocent by-stander to death with a baseball bat has been jailed for life.
Andrew Deighan, 24, went to his mother's house and armed himself with the weapon after being involved in an argument about an Old Firm game.
He then attacked 20-year-old Matthew Martin at random outside a pub in East Kilbride last February.
Mr Martin was killed by a single blow from Deighan, who was found guilty of murder after a trial.
At the High Court in Edinburgh, judge Lady Dorrian told Deighan he must serve at least 14 years in prison before being eligible for parole.
She added: "Having been in a fight with others you returned to your mother's house where you deliberately armed yourself with a weapon, a bat, before going out in a search of the area to find someone to attack.
"That person was the innocent by-stander Matthew Martin."
The judge said she accepted that Deighan - who has a record for assault and reckless conduct - was genuinely remorseful and had struck only one blow.
Lady Dorrian continued: "But that was a blow delivered with force and you went out, deliberately armed, to attack someone."
Speaking outside court, Mr Martin's father - who had been standing near his son when he was attacked - said the sentence was too lenient.
Bernard Martin added: "That is a joke. The sooner they start putting black caps on again, the better.
"My son was only 20 years old, an innocent by-stander. Now somebody thinks 14 years is enough for him."
An earlier trial heard how Deighan, of Cambuslang - then a surveying student at Glasgow Caledonian University - had been watching an Old Firm match on television on 6 February last year.
After getting into an argument he went to his mother's house for a baseball bat and woolly hat - to use as a mask - before going out again seeking revenge.
A jury watched CCTV footage of Deighan running towards Matthew Martin and attacking him.
Mr Martin, of East Kilbride, managed to stagger away but his body was found the next morning. He had suffered fatal brain damage.
'Open letter'
Deighan went to a friend's home where he boasted that he had struck someone "at random."
He later fled to London, where he handed himself in to police after his mother tipped off officers about his involvement in the incident.
At his trial he admitted causing Matthew Martin's death but denied murder. A jury rejected a plea to convict him of a lesser charge of culpable homicide.
Before sentence was passed, defence QC Derek Ogg read from "an extensive open letter" Deighan had written about the incident.
It said: "I fully recognise the damage I have caused to Matthew Martin's family. I am very sorry for what I have done. I have to accept the fact that the jury decided it was murder and I have to accept the fact that I must be punished."
Mr Ogg said background reports showed Deighan had experienced problems in his early life, had been bullied at school and had a history of depression.