Dome replaced on Olympia building in Glasgow's east end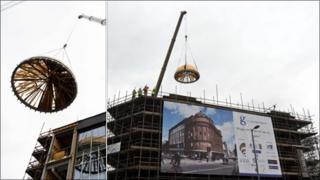 A five-tonne dome has been replaced on the landmark Olympia building in Glasgow's east end.
Work began last year on a £10m project by regeneration agency Clyde Gateway to bring the Olympia Theatre back into use.
The building's wooden cupola was removed in June 2011 for restoration, 100 years after the theatre's opening in 1911.
The dome was lifted back into place by a 60ft crane.
George Redmond, councillor for the Bridgeton area and board member of Clyde Gateway, said: "The feedback from local residents since we started work on the Olympia has been overwhelming.
"We already knew that this is a building which means so much to them, however the interest they have shown throughout the project to date has exceeded all expectations and helped to create a real buzz and add to the sense of pride in the area."
The Olympia building is due to reopen in the autumn and will include a public library, cafe, performance centre, headquarters for the national governing body for amateur boxing and office space.
Over its history it had served as a theatre and cinema before being severely damaged by fire in 2004.