'Parcel bomb' trial told accused bought store items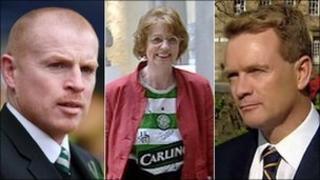 The trial of two men accused of sending parcel bombs has heard evidence one of the accused bought padded envelopes, a digital watch and plastic bottles.
The High Court in Glasgow heard an Ayrshire B&M store worker identified Neil McKenzie from CCTV footage.
Careene Sinclair said she had been at school with Mr McKenzie's son.
Mr McKenzie and Trevor Muirhead deny sending parcels to Celtic manager Neil Lennon, QC Paul McBride and former MSP Trish Godman.
The jury was shown CCTV footage from the B&M shop in Stevenston from 14 April last year.
The witness picked out Mr McKenzie and his mother waiting to be served by her.
The accused was seen lifting a large red suitcase and prosecutor Tim Niven-Smith asked what else was purchased.
Ms Sinclair said travel bottles, a digital sports watch and envelopes. She said she recalled the transaction based on later seeing a receipt.
Mr Niven-Smith then asked: "Was he someone who came into the store regularly?" The witness replied: "The past six months."
Suspect packages
The trial also heard an individual bought a quantity of nails the same day from a B&Q store nearby.
Det Con Julie Matthews - who viewed CCTV from both premises - said she believed it was the same man she had seen in the B&M shop.
The court was previously told how a suspect package marked for Mr McBride was discovered in Kilwinning, Ayrshire, on 15 April.
Mr Lennon and Ms Godman were also sent suspicious items of mail, which included a bottle with liquid, a timer and nails in each.
The trial also heard of a separate purchase of a number of bottles of cream peroxide - which can be used to dye hair - from Sally Salon Services in Kilmarnock in March last year.
The purchase was said to have been made in the name of an account holder.
Mr Muirhead, from Kilwinning, North Ayrshire, and Mr McKenzie, from Saltcoats, North Ayrshire, are charged with conspiring to assault and murder Mr Lennon, Ms Godman, Mr McBride and occupants of the Cairde na h'Eireann offices by sending them devices they believed were capable of exploding.
The trial, before Lord Turnbull, continues.