Car of Neil Lennon parcel bomb accused 'was bugged'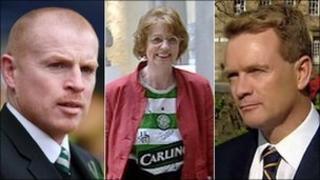 The jury in the trial of two men charged with sending parcel bombs has heard that police bugged the car of one of the accused.
Neil McKenzie and Trevor Muirhead deny conspiring to murder Celtic manager Neil Lennon, QC Paul McBride and former MSP Trish Godman in May 2011.
Extracts recorded by a bugging device in Mr McKenzie's car were played to the jury at the High Court in Glasgow.
In one of them there is talk of "a bomb" and a "gas canister".
Surveillance officers have told the court that they were "set objectives to follow Mr McKenzie".
A detective said she later discovered Mr McKenzie's car had been bugged.
Det Con Carrie Brown, 34, said she discovered the black Ford Focus car had been bugged and that Mr McKenzie was the subject of surveillance.
Det Con Brown agreed with defence QC Donald Findlay that police had "sneaked away his car and planted a bug in it".
The jury heard how police had followed Mr McKenzie in Ayrshire, in car and on foot, on 3 May, 4 May and 5 May 2011.
Secret recordings
A number of extracts from conversations recorded by a bugging device covertly planted in Mr McKenzie's car were played to the court.
The recordings were said to have taken place last May after police identified Mr McKenzie as one of their targets.
The court heard the bug had been authorised by Strathclyde Police Chief Constable Stephen House.
In one clip there is a chat about Neil Lennon killing himself.
DC Debbie Trotter later gave evidence and told the jury of another conversation where there is talk of "a bomb" and a "gas canister".
Prosecutor Tim Niven-Smith asked: "Having regard to the purpose of the (police) operation, was this conversation of interest?"
DC Trotter replied: "Immediately, yes."
Mr Niven Smith asked DC Trotter who she believed was speaking at the time and she said Mr McKenzie.
Mr Muirhead, from Kilwinning, North Ayrshire, and Mr McKenzie, from Saltcoats, North Ayrshire, are charged with conspiring to assault and murder Mr Lennon, Ms Godman, Mr McBride and occupants of the Cairde na h'Eireann offices by sending them devices they believed were capable of exploding.
The trial, before Lord Turnbull, continues.