Syrian protester fled to Scotland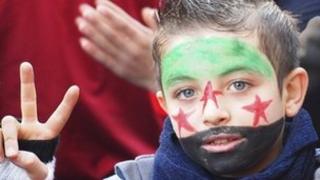 A Syrian man has described how he fled to Scotland after organising demonstrations against President Assad's regime.
Abu Bassil - not his real name - said government troops killed nine of his friends on the first march they held.
He was hunted by the Syrian security forces after they were told he was behind the protests.
Mr Bassil managed to bribe his way out of Damascus after the secret police arrested his wife and children.
Speaking to BBC Radio's Good Morning Scotland programme, Mr Bassil said he and some friends had organised the first demonstration in their area of the Syrian capital on 22 April last year.
He said: "We prepared banners and sent leaflets to the mosque saying tomorrow there would be a demonstration.
"I will never forget that day because nine of my friends were killed in that demonstration. The snipers came very early that Friday morning and they took the roof of a building at 10 o'clock because they knew prayers were at 12 o'clock and after prayers there would be a demonstration."
He said the soldiers opened fire with their Kalashnikov rifles as colleagues in vehicles ran over the protesters, killing several of them.
Mr Bassil added: "After that I still worked in secret with my friends and we still arranged demonstrations in different areas.
"We were in contact with a lot of people in Damascus until one of my friends was arrested and under torture he gave my name.
"Since that time it's been very dangerous for me in Syria. The police were looking for me. They raided my flat, arrested my wife and my children, my very young children, for two days just to force me to surrender myself.
"I refused to surrender because I knew the result - most of my friends were tortured until death."
Despite his family urging him to leave Syria, Mr Bassil remained until 10 December, when his wife phoned to tell him the secret police had arrived at his home.
He had a valid UK student visa and managed to bribe officials at the airport in Damascus, who allowed him to leave without being arrested.
He is now living in Glasgow, where he hopes his wife and children - who are also attempting to get out of Syria - will soon be able to join him.
Mr Bassil said: "I still worry about them because you can't trust (Assad's) regime or government. They can arrest anyone, even children, and when they are arrested nobody knows what happens to them."