Paul McBride's body to be returned to Scotland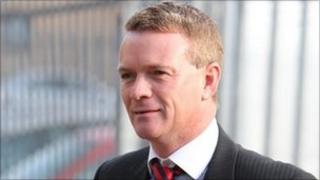 The body of the prominent QC Paul McBride is expected to be returned home to Scotland on Saturday.
Mr McBride died suddenly in his hotel room last Sunday at the age of 47 while on a trip to Pakistan.
His funeral will be held in the Garnethill area of Glasgow on Monday morning.
A post-mortem examination of Mr McBride's body carried out by the Pakistani authorities earlier this week showed his death was not suspicious.
A requiem mass will be held at 10:00 on Monday at St Aloysius' Church in Garnethill area of Glasgow.
After the service, the funeral party will proceed to St Convals Cemetery in Barrhead to say their final goodbyes.
Mr McBride was on a business trip to Lahore with Glasgow-based human rights lawyer Aamer Anwar.
Natural causes
Both lawyers had been attending a wedding but Mr McBride returned to his room early, feeling unwell.
He was found dead in his bed by Mr Anwar at the Pearl Continental hotel the next morning.
The post-mortem found no sign of any injuries and concluded that Mr McBride died in his sleep through natural causes.
Speaking from Pakistan on Wednesday, Mr Anwar said he would be meeting the British High Commissioner to discuss "the lack of consular assistance" offered in the wake of Mr McBride's death.
Mr McBride was one of the leading Scottish lawyers of his generation, having been appointed a QC at the age of just 35.
He was involved in many high profile criminal cases and fatal accident inquiries, as well as representing Celtic Football Club.
Following his death, tributes poured in from across Scotland from the worlds of politics, media, the law and sport
The lawyer had been due to give evidence later this month in the trial of two men accused of sending parcel bombs to Mr McBride, the Celtic manager Neil Lennon, and former MSP Trish Godman.