Neil Lennon bomb trial hears of bugged conversation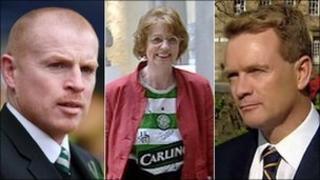 The Lennon bomb trial has heard that male voices discussing "planting" something outside a police station were recorded by a secret device in a car.
The High Court in Glasgow was told that police put a recording device in Neil McKenzie's car in May last year.
Mr McKenzie, 42, and Trevor Muirhead, 43, are accused of conspiring to murder Celtic manager Neil Lennon, former MSP Trish Godman and the late Paul McBride.
Both men have denied the charges against them.
In the covert recording played to the court, a male voice is heard saying: "I think we should get enough stuff together and plant one outside the police station.
"I think they'll get the message. Put the shitters right up them, by the way."
A surveillance officer, who has not been identified, said the recording was made on 9 May.
Mr McKenzie and Mr Muirhead deny sending improvised explosive devices to Lennon, Ms Godman and Mr McBride, and republican group Cairde Na Heireann, between March 1 and April 15 last year.
It is alleged they believed the devices were capable of exploding.
The pair face an alternative charge, which they also deny, of conspiring to cause an explosion of a nature "likely to endanger life or cause serious injury to property".
The trial, before Lord Turnbull, continues.